This month we're shining the spotlight on Gretchen Peters, a 2x Grammy nominee and 2014 Nashville Songwriters Hall of Fame inductee. Gretchen is considered one of Nashville's greatest talents.
Gretchen took some time out of her busy UK touring schedule to chat with us about her music, upcoming projects, and what she likes most about AudioTheme and her Promenade theme.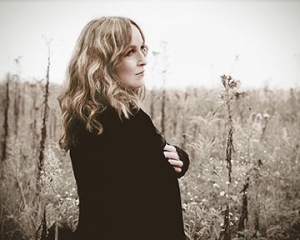 AT: How did you get started in the music world?
GP: I learned to play the guitar at an arts camp my parents sent me to when I was seven years old. I switched from the violin to the guitar, started learning Bob Dylan songs and never looked back.
AT: How would you describe your sound to someone who isn't familiar with you?
GP: I've been called the Mistress of Melancholy, my records have been described as country, folk, alt-country, Americana, rock, pop…. at some point they're all true, or they're all meaningless. I think the element that is constant in my music is the emotional quality. The melancholy thing isn't far off. If that were a genre I'd belong there.
AT: What's your most popular or fan favorite song?
GP: That's hard to say, but "On a Bus To St. Cloud" is an enduring song that people always want to hear at shows. I've been singing it since I wrote it in the early 90's, and I'll never stop singing it.
[Note: You can find "On a Bus To St. Cloud" on The Secret of Life which you can stream in its entirety on Gretchen's Website.]
AT: What's your favorite thing about your AudioTheme website or the AudioTheme plugin?
GP: The ease of use – I need to be able to update my website on the fly, on the road – wherever I am and whatever's going on. This makes it easy.
AT: Please tell us a little bit about your latest album, Blackbirds and anything else we can look forward to!
GP: Blackbirds, entered the UK country chart at #1! I couldn't be more thrilled. We'll be touring everywhere in 2015, and most of 2016.
You can find Gretchen Peters across the web:
Gretchen Peter's Website
Facebook
Twitter
Love Gretchen's site? Learn more about our Promenade theme.
Want to be an AudioTheme Spotlight Artist? Send us an email!
Find AudioTheme across the web:
AudioTheme.com
Facebook
Twitter