The AudioTheme Framework plugin is designed to work out of the box without needing any configuration. While the default settings should serve most needs, there are a few steps you can take to customize your site before it becomes established.
Archives
The majority of functionality provided for content managers by the framework falls under three groups: Gigs, Discography, and Videos. Your site visitors will typically access an overview page that lists all content from one of these groups, which is called an "Archive" page.

In your WordPress dashboard, each group will have an Archive screen (accessible through a submenu item) that corresponds to the archive page on the front-end and will allow you to customize various archive-related settings. By default, you can change the archive title and enter an introduction, while some themes may add additional functionality to further modify its appearance.
One interesting aspect of this screen is the ability to customize your permalinks.
Permalinks
Changing permalinks will modify the URLs where your content is accessed, which can break existing links to your pages or hurt your results in search engines, so care should be taken when deciding to make a change on an established site.
So what exactly is a permalink? It's simply the URL used to access a gig, record, track, or video (or any other content) and their respective archives on your site.
Let's use gigs as an example. Out of the box, the permalink for the gigs archive is: http://example.com/shows/

Each gig would be accessed at a unique URL looking something like this: http://example.com/shows/gig-name/
What if you don't want to use shows as the "slug" for gigs? You can simply update the permalink on the Gigs → Archive screen to use any slug you want and it will automatically change it for every gig. Try changing it to events or calendar; you can always change it back to shows if you like that better. Note that we may use the tour slug in the future for grouping related gigs, so we don't advise using it at this time.
Discography and videos both work the same, using music and videos as their default slugs.
Adding Archives to Menus
These archives are pretty important pages, right? You've likely seen them in the theme demos and are wondering how to access them on your own site or add them to your menus. Typically, you might even usage a page template. They work a bit differently in the framework.
Many of the admin screens in WordPress have a couple of tabs at the top right of the page that are easy to miss. One will allow you to find help for the current page and the other is called Screen Options. The latter tab is what we're interested in. Opening that tab will reveal various settings that you can change to modify how the screen behaves.
If you want to add a link to one of the archives in your site menu, visit the Appearance → Menus screen in your admin panel and select the menu you'd like to edit. Then open the Screen Options tab and make sure the Archives checkbox is checked.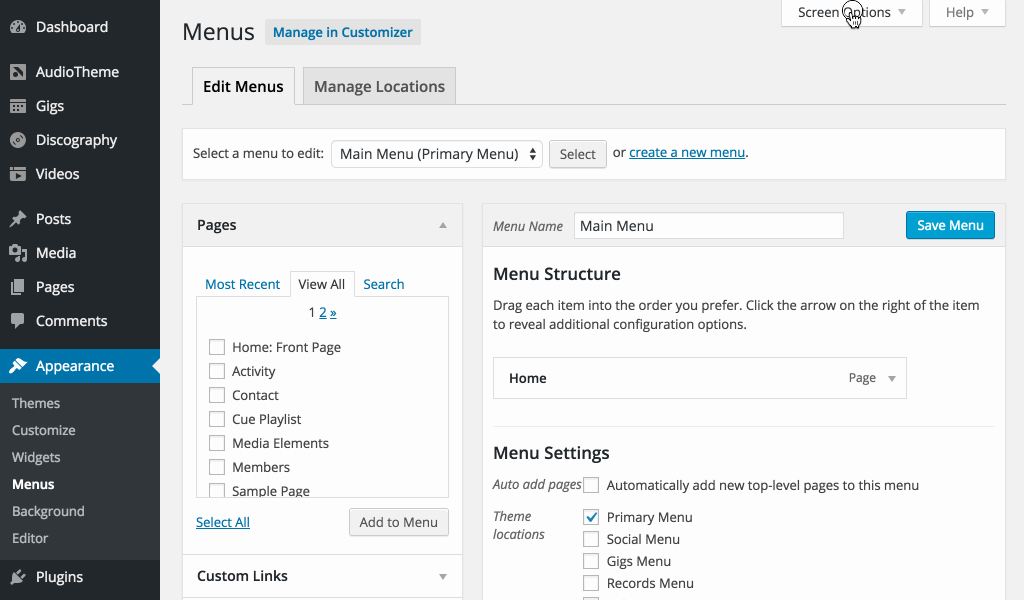 You can also select "Records" and "Tracks" if you want to add any of those to your menus. When you check those checkboxes, it adds a new section beside your menu items. Open the Archives panel and you can add links to the Discography, Gig, and Video archive pages.