Huesos (Spanish for bones), as its name suggests, is a straightforward, content-focused theme built to provide the foundation for your online presence.
It's simple, it's easy to use, and it's perfect for burgeoning and seasoned musicians alike. With Huesos, you'll have a functionally sound website up and running in no time.
Custom Fonts
Beautiful fonts make for a much better browsing and viewing experience. This is why with Huesos we've built in the ability to customize your theme with 30+ hand picked Google fonts. If you're a Typekit customer, we've got you covered there too.
Want to try customizing the fonts? Give it shot →
Site-Wide Jams
Huesos features a slick, site-wide player that remembers track information and location as visitors browse your site for a near-seamless playback experience. The player defaults to your most recent record (with playable MP3 files) and auto-populates any additional audio from your site when a visitor clicks a play button. A custom playlist can also be created using our free plugin Cue.

Super Simple Backgrounds
Easily change your site's background with one of our predefined colors or choose your own using a simple color picker. Text automatically updates based on your background to provide optimum contrast. Go ahead and try it out in the public customizer.

If you prefer a background image, Huesos does that too.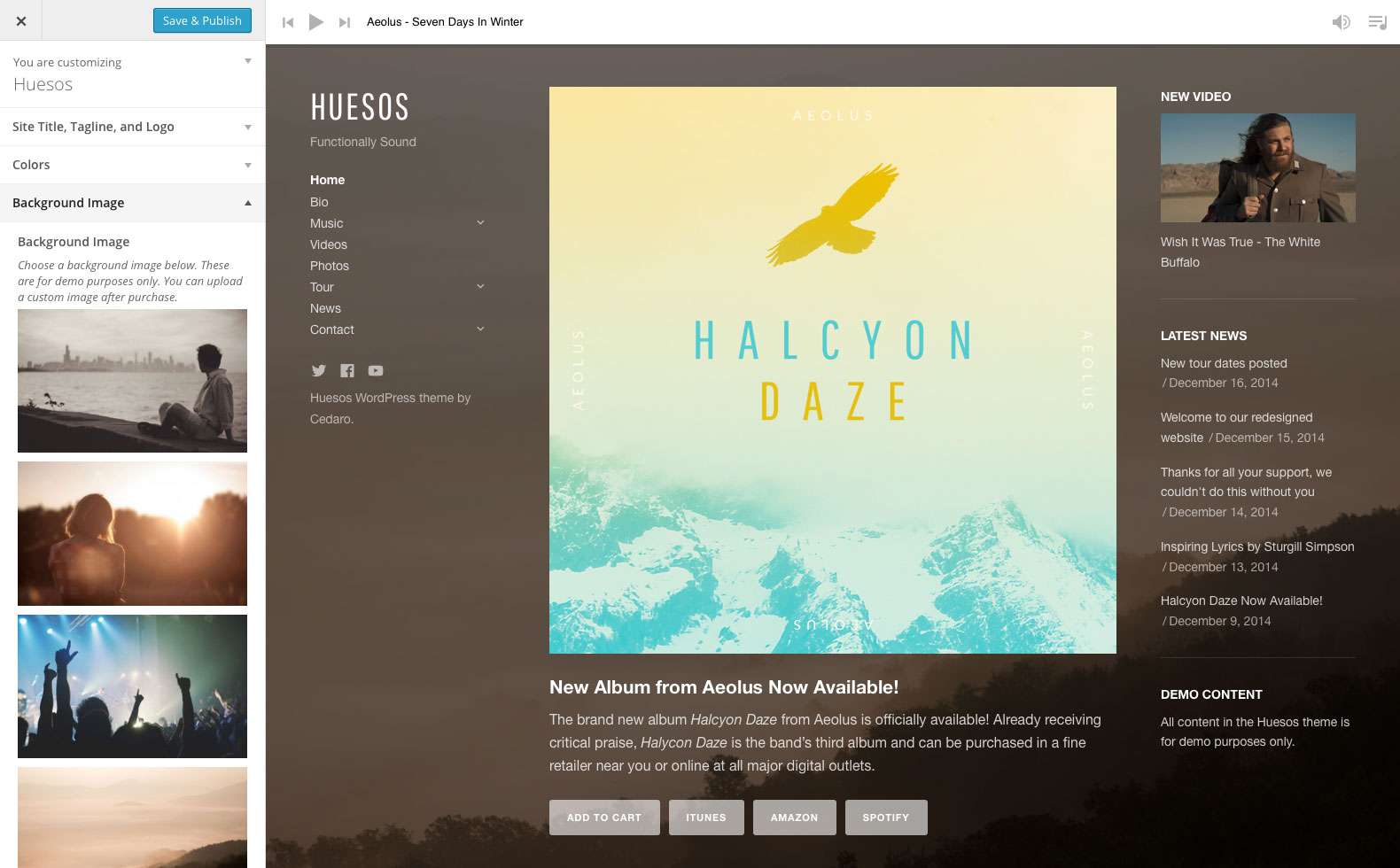 Widgetized Home Page
Display a stream of recent posts on your home page or set your site to use a static front page and add widgets to the "Home" widget area to create a unique home page (AudioTheme widgets, in particular, add a nice touch).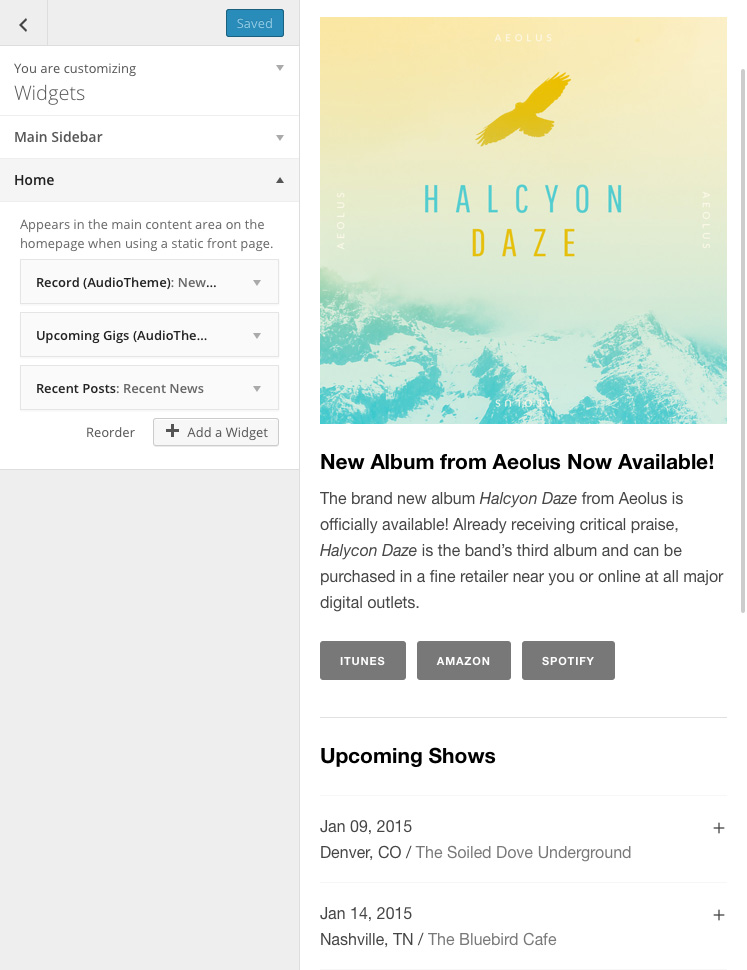 Video Archive Preview Mode
Clicking the play icon on any of the videos in your archive slides the video to the the top of the page. It's simple way for fans to watch your videos without navigating multiple pages.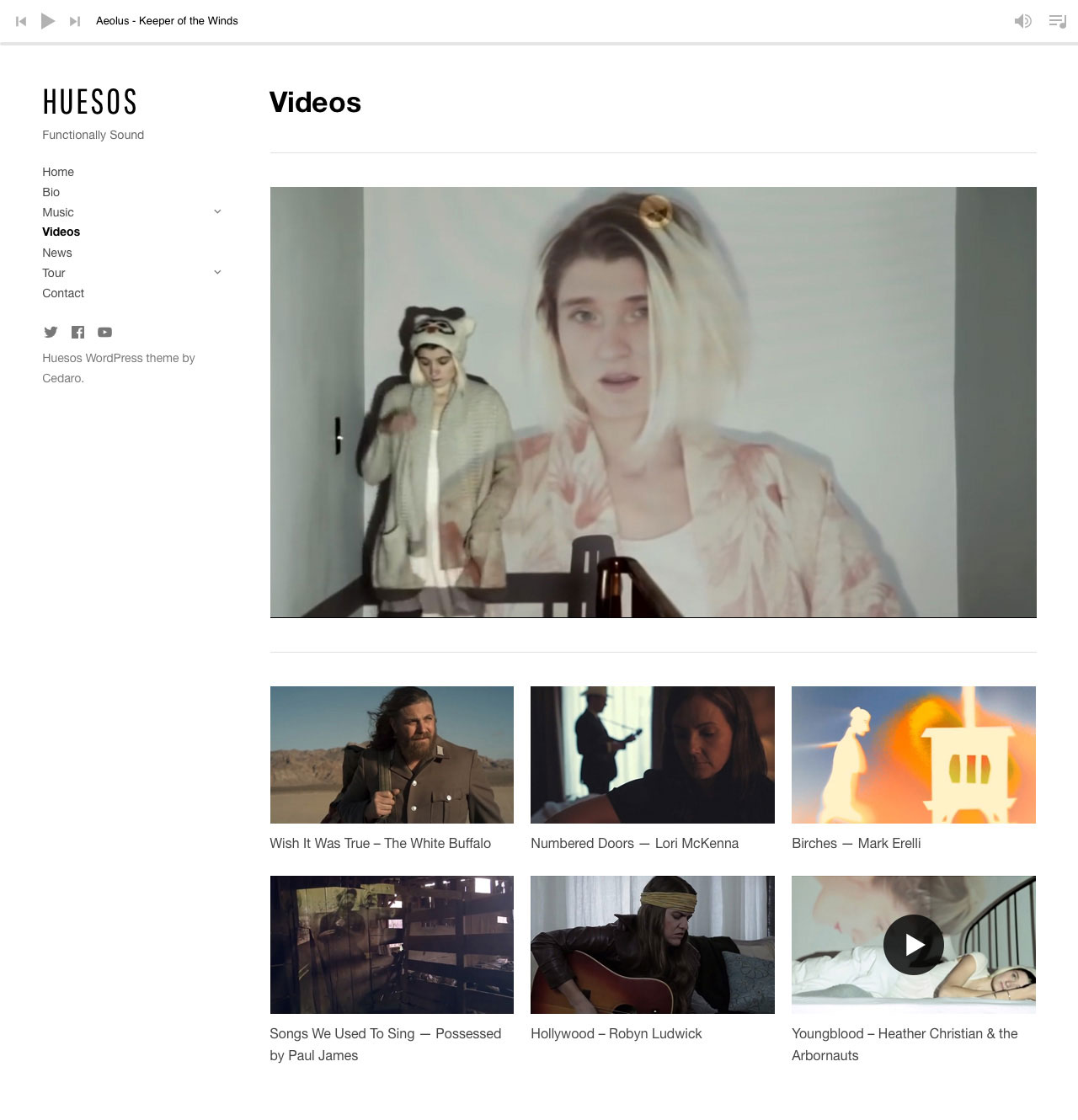 Sell Your Digital Wares
Huesos comes with built-in styles for Easy Digital Downloads — an e-commerce solution billed as the easiest way to sell digital downloads through WordPress — allowing fans a seamless buying experience for your digital goods.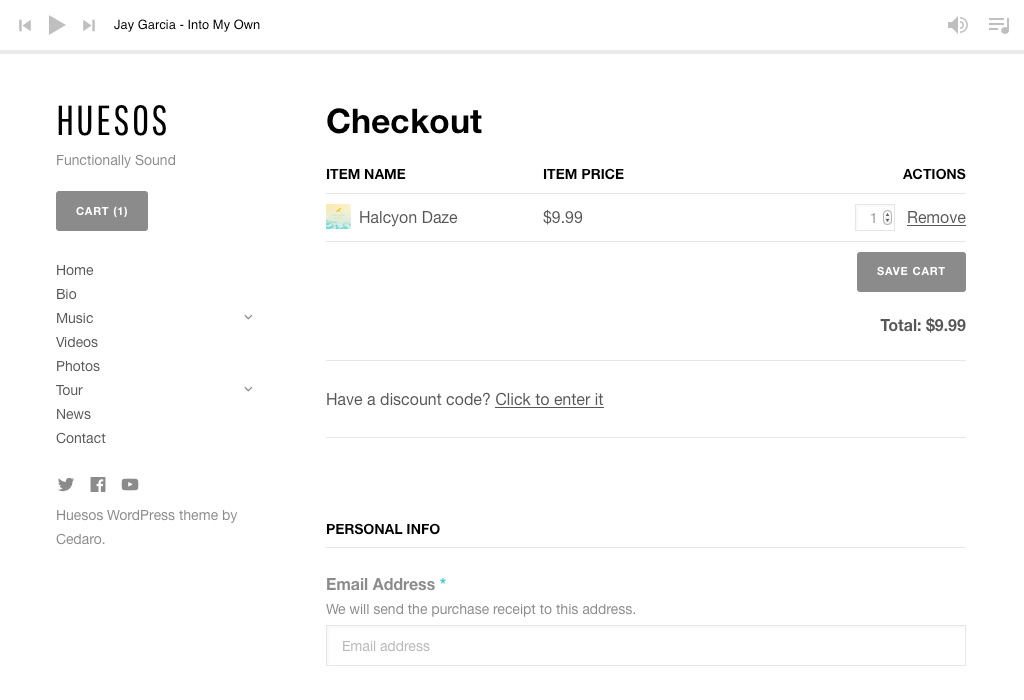 That's not all! Huesos also includes
Support for all AudioTheme features: Gigs, Records, Videos, and Widgets
A widget-enabled sidebar
Fully responsive with off-screen navigation and playlist menus at mobile sizes
A social icon menu
Full-width page templates
Link and Quote Post Formats
Visit the Huesos Handbook for more details about features and information on getting started
Huesos Video Overview