Ry Bradley is an award-winning country music artist who brings his dynamic stage presence and innovative country sound with him wherever he goes. Growing up in Hawaii and California, he was exposed to many types of music which helped him develop his own unique sound. Ry received the 2014 LA Music Award for "Country Artist of the Year."
We recently caught up with Ry to learn about his upcoming album, his work for the victims of the Las Vegas Route 91 Harvest shooting, and what he likes most about his Wayfarer theme.
When and how did you start playing guitar?
I got a guitar at 10, but I was bummed that it wasn't an electric. I stuck a microphone in the sound hole! I took a few lessons at 11 and after I sent a tape (remember those) of myself playing to my dad in Hawaii, I got a white knockoff Stratocaster for my 12th birthday. I've never wanted a "thing" more in my life and I still have that guitar.
What kind of musical influence did growing up in Hawaii and California have on you?
Songs have a life of their own and in Hawaii, people didn't really separate genres when I was a kid. I thought "Blackwater," "Brown Eyed Girl" and "Lay Down Sally" were Hawaiian songs until I went away to college. My first tape was Ka'au Crater Boys "Valley Style." I listened to it so much that I can sing the ukulele solos and the words from memory. That uke player is one of the best improvisers I've ever heard and I definitely stole some of his style for my guitar playing. I think his name is Troy Fernandez.
What would you say constitutes a great live performance? Has there been one performance that has stood out from the rest as the most memorable for you?
Great question. I do my best to really be with the audience. Looking into their eyes and make it about these songs and stories that connect us. It might sound hokey, but I don't care. We are only here for a small moment and if I'm up there singing these songs I wanna share the moment with the people listening. They pay their hard earned money and come out to enjoy themselves. I want to make sure that happens. I'm grateful to share my songs with them.
I like to dance around and I love big dramatic shows but it's still all about the music. I was blown away at P!nk's show and ZZ top's show. P!nk flew through the air and ZZ top pretty much just stood there but both of them had great music at the foundation.
The first time I sang my own songs in public I was 17 with my punk band. It was on the football field at my high school in Kahuku and it stands out as the first moment where I thought, "This is it for me. This is what I'm doing with my life."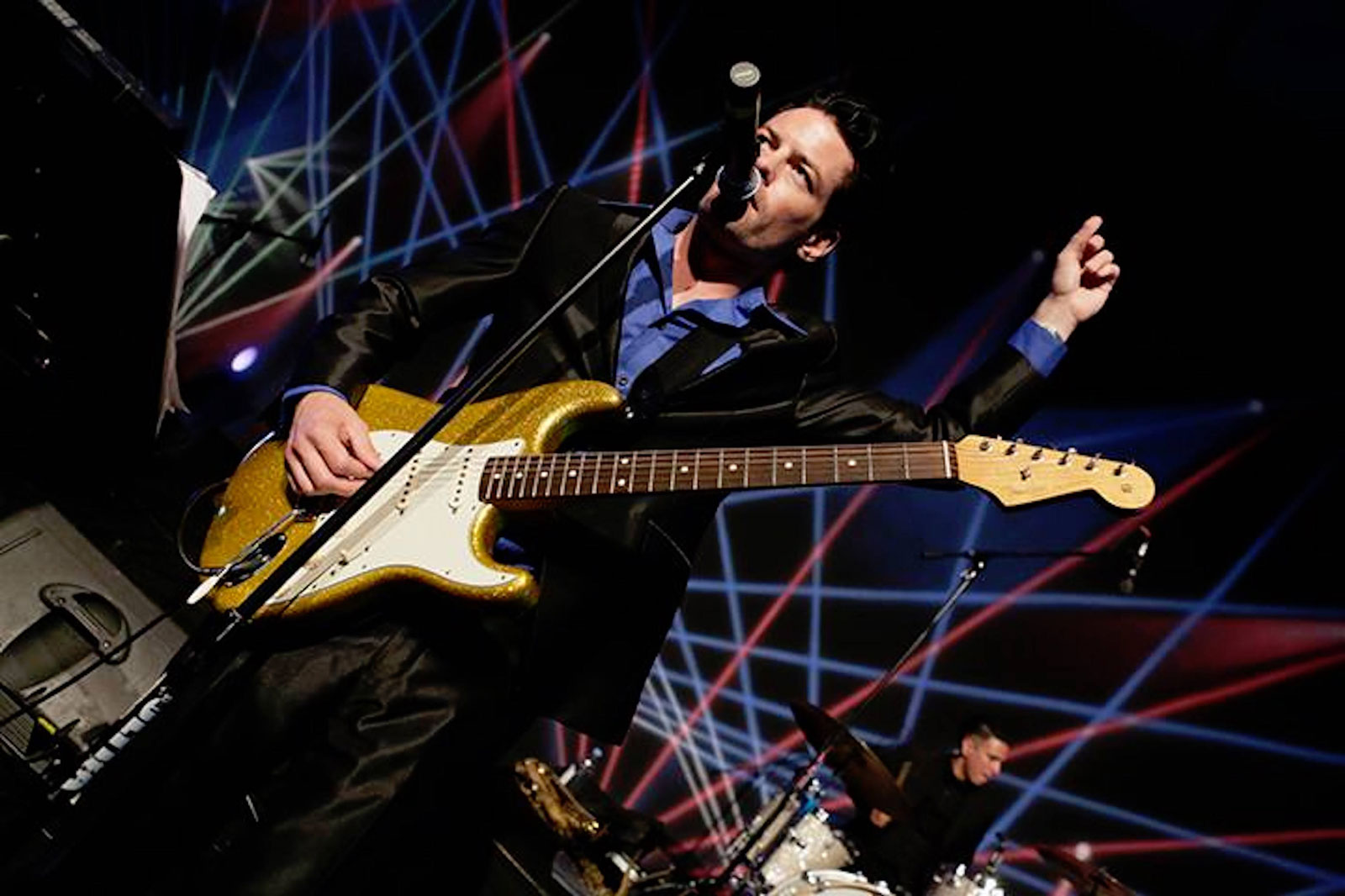 Do you have a favorite song that you have written?
Usually the one I've most recently written, but "Hollywood Endings" stands out as being good on all levels — lyric, melody, form, emotion. I can't even remember writing it, it was like a gift that came from the air.
Who are some of your musical heroes and what do you love about them?
I love the personality in the playing of Freddie King and Brian Setzer, but as a pure artist I look up to Jimi Hendrix a lot. Dick Cavitt asked him on TV one time about politics and Jimi said, "politics is the art of lies, music is the truth." That resonates with me. I can see that all of us are the same at the core. Most of our opinions and beliefs have a tendency to separate us, but time and time again I see people with drastically different backgrounds and beliefs loving the same song. I know a guy who is so on the left that he constantly complains about the right, and I have a cousin who is very conservative. Both of these people can't resist singing along to "Amarillo by Morning" and both of them would do anything for their friends and family.
Tell me a little bit about the song "The Next Aldean Show" that you and Justin Busch co-wrote.
The day after the Route 91 tragedy, I was with Justin and his wife who had been there. We are all really close and we had so many friends there. I still struggle to understand why some people hurt others like that. Music has always been a way to process the hard moments in my life so that day we just wanted to do something for our country music family and all the people affected, so we wrote the song with the hope to bring us all together and empower country fans to get back out and enjoy the music and live shows. All the proceeds go to the National Compassion Fund and directly to the victims and their families.
What new projects do you have going on at the moment?
My new album comes out on July 13. It's called Everything I've Got. It has the stories and songs from the ups and downs of the last 3 years and I've put everything into this album. I've got tour dates this summer in Norway and the US, so it's a busy time, but the band and I are happier than ever.
I'm also putting together a benefit for this incredible women's shelter in Orange County, California. It's called Casa Teresa, and they bring in pregnant women who are alone with no support and when they leave these women have a job, parenting education, are enrolled in school, and they have support for the rest of their lives. It takes place on July 14th in Irvine California.
What can we look forward to from you in the future?
More music! I would like to do more collaborating with different artists in different styles. I have written some tunes with Keb' Mo', so I'm looking to connect with him on recording our songs together. I've been lucky to meet many artists I look up to and love.
What's your favorite thing about your AudioTheme website?
The AudioTheme website and plugins have a great look and professional appearance. It allows me to add my content and be creative without having to be a web developer or designer. I have people help me, but it's good to know that I can get in there and fix something or add things easily without having to wait for a specific web professional. I'm not a computer guy, but AudioTheme makes it easy to have a great site with just a little bit of knowledge.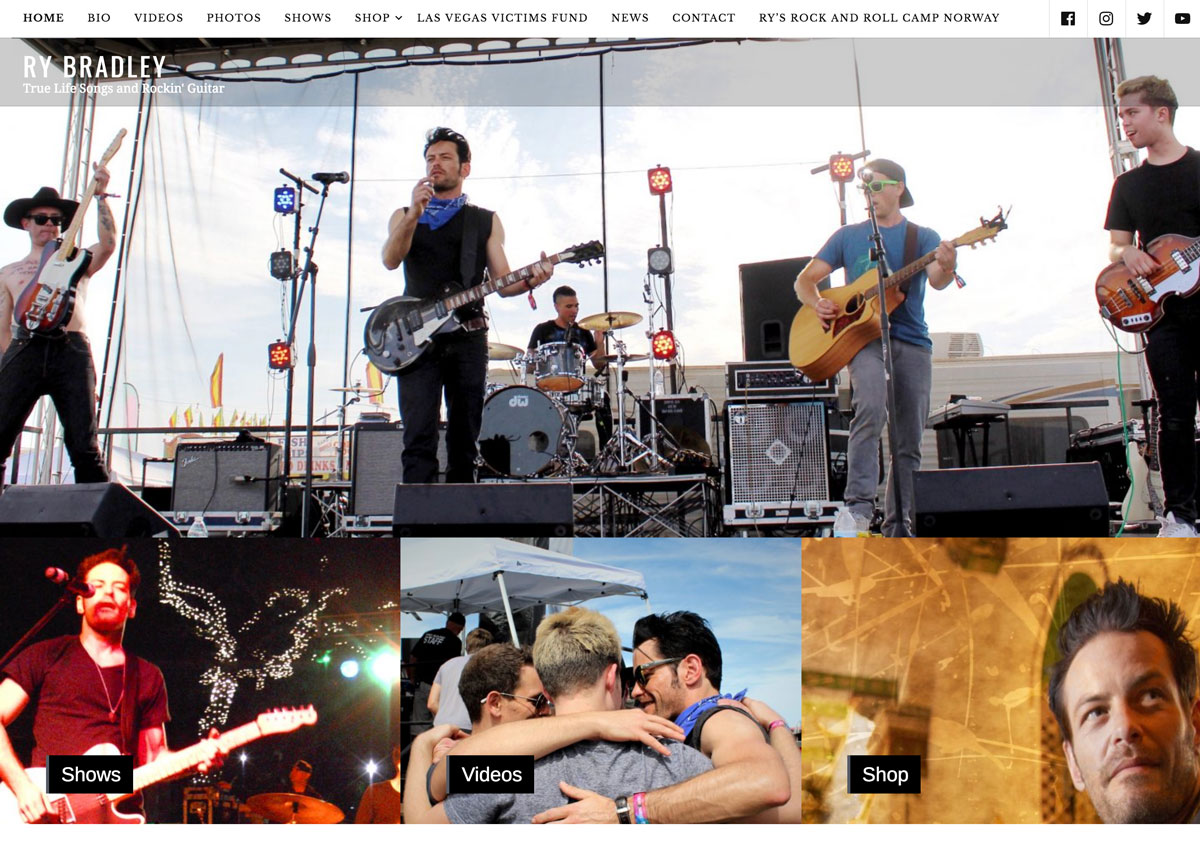 What do you like best about the Wayfarer theme?
Most of the cutting edge artists have a very straightforward simple front page. Wayfarer puts everything on the home page and lets you see everything spread out and easy to understand. The modern web experience needs to be simple, even Google makes sure their homepage has as few words as possible. Wayfarer is simple but effective… Like a Telecaster.
Love Ry's website? Learn more about our Wayfarer theme.
Find Ry across the web:
Are you interested in doing an AudioTheme Artist Spotlight? Drop us a line!