Singer songwriter Sam Newton is a storytelling folk musician from Sydney who takes full advantage of traditional country and blues foundations to build both free wheelin' and carefully constructed songs. A staple in the Australian Alt-Country scene, his hooks and poignant lyrics will stay with you long after the music finishes.
I recently caught up with Sam to learn more about the types of songs he writes, how he writes songs, who his influences are, where he draws inspiration and why he highly recommends AudioTheme for serious musicians.
What are the main themes or topics for most of your songs?
On one hand, like many songwriters, I'm interested in writing songs that revolve around emotions such as love, heartbreak, loss, deception etc. With this, I try to write on a personal level where my own experiences can help bring depth and truth to what I sing. Many of the songs that I have written for my next album (expected early September) are particularly personal.
On the other hand, I like to write songs that will take the listener on a journey through the use of narrative and imagery. I love the idea of getting into someone else's brain and seeing the world as they do.
Do you have a favorite song to play? Why?
One of my favourite songs to play is a tune called "The Justice Saga" – especially when supported by a full band. It's a song influenced by my love for comic books and was written based upon classic Westerns where the protagonist who was wronged decides to embark upon a quest for revenge. There are lots of dynamic changes throughout, including phrases where the band drops back so lyrics can be whispered into the microphone. Lots of fun.
Is there a comic book character, author, or series you tend to gravitate toward?
I've always been a big Batman fan. I love just about everything by Alan Moore, Frank Miller or Neil Gaiman. My favourite series is by far "Sandman" by Neil Gaiman. I'm also a huge fan of "Preacher" by Garth Ennis.
What inspired you to do the 100 Songs / 100 Days songwriting challenge? What has that experience been like so far?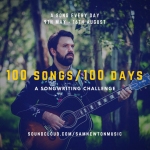 Embarking on something like this has been in the back of my mind for quite a while. Then there is the advice offered by every single songwriting book, blog and course out there emphasizing the importance of repetition, routine and quantity. Songwriting is like a muscle and I feel like I haven't been working on it nearly enough. I don't just want to write good songs… I want to write great songs.
I decided to undertake this challenge kind of on a whim. I sat down to write a song and that particular one came really easy. I figured, 'Hey, I could do this every day. Easy'. I can tell you now at less than a tenth of the way through that the experience is anything but easy. However, it is really satisfying and I'm already seeing particular elements of the songwriting process come easier than previously. The hardest part is finding the time. But I figured if you're doing something that you love, you've got to make the time. I have a personal goal of a one hour restriction for all preparation and writing.
What do you like to do outside of music as a hobby or use as inspiration to rejuvenate your creativity?
I don't know if I have any hobbies. I occasionally play video games and read a lot of books. Earlier in the year, I finished reading "The Stand" by Stephen King; huge book of epic proportions and highly recommended. One of my favorite books would be "Good Omens" by Terry Pratchett and Neil Gaiman. Neil Gaiman is by far one of my favorite authors.
I'm also a big believer in going out to see live music and supporting your friends and the music scene in general. The biggest thing to rejuvenate my creativity is listening to other artists. There is so much incredible music out there. I try to listen to a fresh album (new or old) at least once per week. I'll often use this as a springboard for new songwriting ideas.
What songwriters have had the biggest impact on you and the way you craft lyrics?
My two favourite songwriters would have to be Neil Young and Townes Van Zandt. Neil Young was my gateway drug to Country Music and I love just about everything that he has worked on. Townes Van Zandt taught me how to refine my lyric writing. I remember seeing an interview in the "Be Here To Love Me" documentary where Townes discussed how much thought and meaning he gave to every little word in his songs. With Townes Van Zandt, there are no throwaway words/lines.
Are you part of a any singer-songwriter communities, either in person or online?
I've performed fairly regularly in the past (and present) as part of various Australian songwriter showcases but I'm most active as part of a Facebook group organised by Chris Hamilton from the Post To Wire blog. Its a strong community within my style of music and I've made a ton of friends and contacts as a part of it.
Is there anything new or exciting that you can share with us? Anything fans can look forward to?
I have just finished tracking for my next album. It's now all ready to be mixed. I'm also recording a video for one of the singles in 2 weeks time. I'm looking at a release date for the video in early August the album around September. Very exciting!
Here is a live solo video recorded not too long ago which features "The Way To Your Heart", one of the tracks from the upcoming album.
Would you recommend AudioTheme to other bands and musicians and why?
Any musician who takes their career seriously needs a website. I've found WordPress to be the most user-friendly platform for me personally with regular updates. I feel a huge degree of control and ownership through use of WordPress.
I've also used a number of different themes for my music page. Most of these tend to look outdated after a small period of time. AudioTheme by far has the best, uncluttered, and fast themes out there.
Then there is the minimalist Cue music player which looks way better than embedding a SoundCloud player. The gig input feature also allows me to save booking agent contact details attached to a venue as private information. With my AudioTheme website, everything just works and its super easy to customise. Highly recommended.
Love Sam Newton's website? Learn more about our Marquee theme.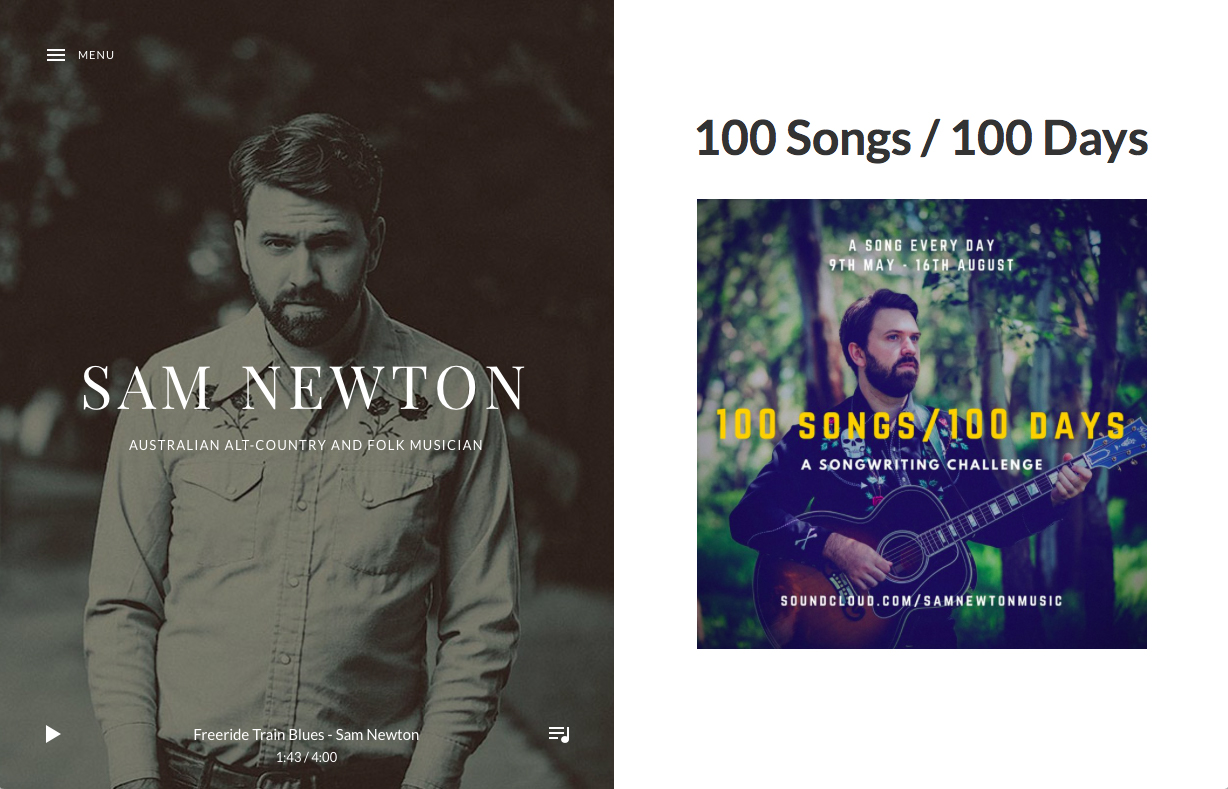 You can find Sam Newton across the web:
Are you interested in doing an AudioTheme Artist Spotlight? Drop us a line!