We analyzed nearly 500 random music websites for professional bands to better understand what tools they're using to enhance their careers and try to determine the best eCommerce platform based on what actual musicians are using.
While the results are far from scientific or definitive, we were interested in broader trends to learn what opportunities exist to create better tools for bands and musicians.
WordPress was the most popular platform with over 40% of sites. Nearly 19% were static HTML, a custom CMS, or undetermined origin. Squarespace came in around 9%. Surprisingly, Drupal logged in at nearly 6%, however most of these were set up by in-house development teams at larger labels.
In addition to the platform, we logged a number of different features. The most popular by far was an events list, with over 95% showcasing upcoming gigs. eCommerce was second on the list with 75% of sites selling something of one sort or another.
It's unsurprising that artists are turning to eCommerce to support themselves, but what was surprising was the wide array of platforms being used. Of the nearly 500 sites, we counted over 90 different methods for selling goods without a single dominant player.
Services like Topspin, BigCartel, Port Merchandise, Shopify, Musictoday, WooCommerce, Kings Road, and Kung Fu, and plain old PayPal buttons had pretty good representation in our limited results.
Today, eCommerce engines come in all shapes and sizes, each with their own pros and cons, and they aren't always directly comparable. Many of the options we encountered are full service merchandising operations that handle everything from design to fulfillment, so you need a large fanbase to partner with them and usually only receive a percentage of each sale. We won't spend time digging into those options. Instead, we'll look into selling digital products and physical goods you plan to ship yourself.
Typically, eCommerce platforms can be divided into two major categories that will play the biggest factor in helping you determine which is best for you: hosted and self-hosted.
As with most things, it's best to choose the right tool for the job, which is what we'll focus on from here on out.
Best Self-hosted eCommerce Platforms
Self-hosted eCommerce platforms have the potential to be the most cost-effective solution, but can just as easily cost the most. They give you all the benefits of WordPress itself, but also require more ongoing care.
You'll almost certainly want to make the connection to your site secure with an SSL certificate, which may cost extra, although some hosts have begun offering them for free.
As with any plugin you install in WordPress, you do need to keep up with updates to ensure your site stays secure, so there can be a maintenance burden, especially if you've made customizations. If you're generating any kind of regular revenue, you will want to set up a staging server so you can test releases before upgrading your live site.
If you want the benefits of a self-hosted solution, but don't want the hassle of maintaining it, you don't have to go it alone. There are a few companies that specialize in supporting and maintaining WordPress. We recommend getting in touch with the great people at WP Site Care to see if they have a plan that would be a good fit for your needs.
There are other WordPress plugins and even standalone self-hosted platforms, but WooCommerce and Easy Digital Downloads are two WordPress plugins with the best reputation and most momentum.
All of our themes have basic WooCommerce integration and a few include deeper support for Easy Digital Downloads. If you have a question about support in our themes, get in touch.
WooCommerce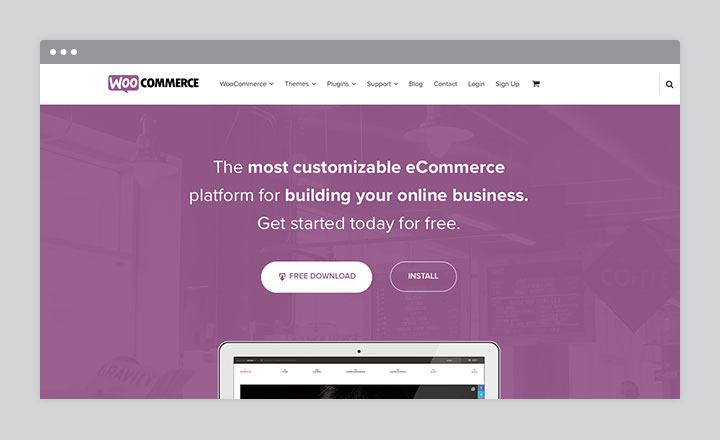 WooCommerce dominates the eCommerce space and is the platform powering over 37% of all online stores. We use it here on AudioTheme.com, so we're familiar with its capabilities.
You can sell physical products, digital downloads, and just about anything else through add-ons.
WooCommerce integrates directly into your WordPress powered site, so if you have a compatible theme, it will look like the rest of our site and live on your main domain — something that's not possible with hosted solutions. For even more control, you can edit templates using a child theme.
It's hard to be sure extensions will work for your needs without buying them upfront, however you can request a refund within 30 days of purchase.
I'd love to recommend WooCommerce for everyone, but it can be a lot to take on alone. It fits in nicely with the WordPress admin panel, but the sheer number of options and knowing how they interact with each other can be overwhelming. At the very least, testing it out is completely free, so there's nothing holding you back.
For ultimate control and flexibility, WooCommerce can't be beat. Just keep in mind that it will require a bit more effort to keep things running. There are a number of training resources, overviews, and tutorials to learn how to get WooCommerce up and running.
WooCommerce is free. Payment gateways typically charge 2.9% + 30 cents for each transaction. If you need something not provided by the base platform, add-ons usually cost more.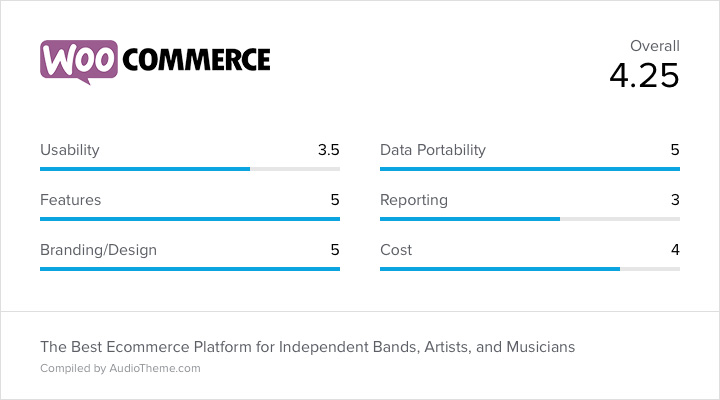 Easy Digital Downloads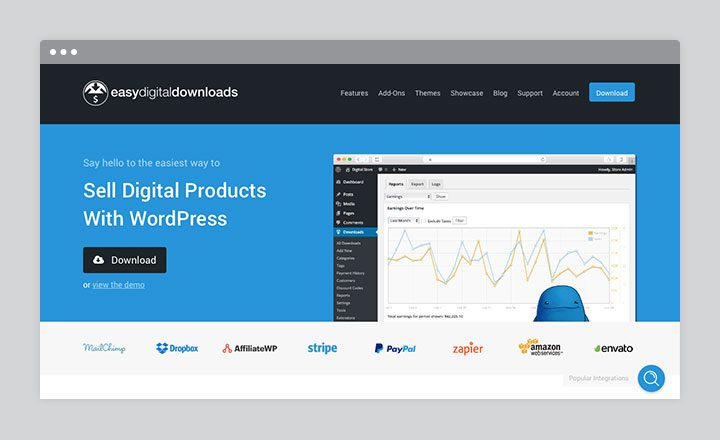 Easy Digital Downloads lays its cards on the table with its name. Its focus is on making selling digital products easy.
It's not quite as hefty as WooCommerce since it has a smaller scope, but it has over a hundred extensions to handle all sorts of needs and integrations with a myriad of external services.
Customizing templates is generally a bit easier, and like with WooCommerce, your shop lives on your main domain for complete control of your design and brand.
Easy Digital Downloads is free. If you need to accept anything other than PayPal, you'll need to purchase a gateway extension. Payment gateways typically charge 2.9% + 30 cents per transaction.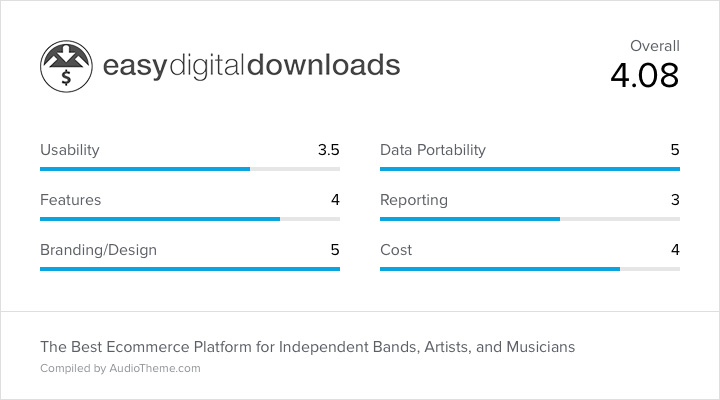 Best Hosted eCommerce Platforms
There are a variety of hosting solutions with differing cost structures, so it's important to know what you want to sell beforehand and have an idea of how much volume you'll be selling.
The major benefits of a hosted solution are they're usually easier to get started with, they handle security, and don't require much in the way of ongoing maintenance.
However, they're typically not as flexible as self-hosted platforms and their fee structures can be prohibitive for smaller artists or costly if you're pushing much volume.
They usually live on a separate domain and may be branded by the parent company, although some do allow embedding buttons or widgets on your own site. Hosted solutions won't let you create a completely seamless experience with your website, but the closer you can get, the more comfortable your visitors will feel with making a purchase from you. If a service lets you map a subdomain, that's one way you can help maintain your brand.
It may also be difficult to export your data from proprietary platforms, so you might be locked in once you start using one. Many platforms will let you export some of your data through the management interface or an API. At the very least, make sure you can download order and customer information.
Shopify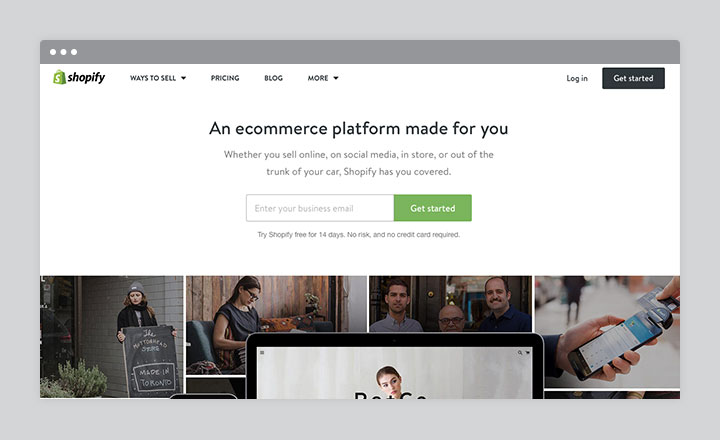 Shopify is an eCommerce platform that allows for selling through multiple channels (online store, widgets, in-person, social media, etc.) and is one of the most popular options available. For good reason, too.
The base platform can be extended through Shopify apps and the appearance of your store can be customized using themes (free and paid). More advanced users can edit templates directly. There are a lot of options, but it's fairly intuitive and only takes a few minutes of exploring to get a handle on the basics.
Selling digital products is possible using a free Digital Downloads app built by Shopify. It basically allows you to upload an attachment for a product and sends an email with a download link when a customer makes a purchase.
Overall, it really can handle almost anything you throw at it.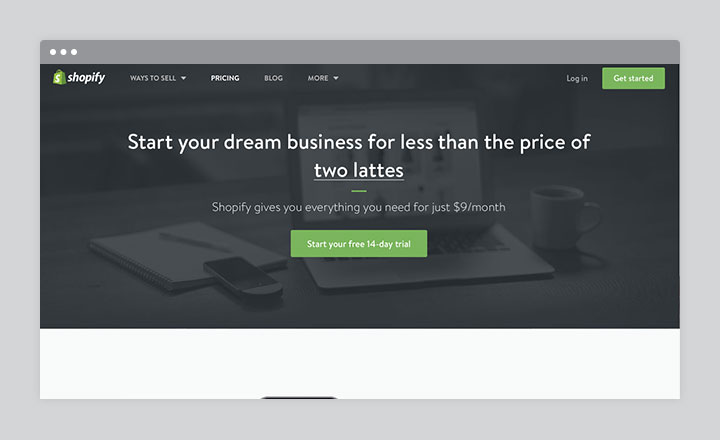 Shopify Lite is only $9 per month and allows for selling on Facebook, Buy Buttons on your own website, or in-person via mobile apps. If you're not planning on selling many products, handling a lot of volume, or don't want to set up an elaborate shop, it's a decent, inexpensive option. A WordPress plugin is also available for embedding Buy Buttons on your site.
Regular plans that include an online store start at $29 per month, plus typical transaction fees of 2.9% + 30 cents per transaction. Third party app integrations usually cost extra.
At a glance, $29 may appear a bit pricey compared to other options, but if you're serious about your shop and making money, it's not bad at all. Themes and apps can really push up the cost if you need anything more advanced.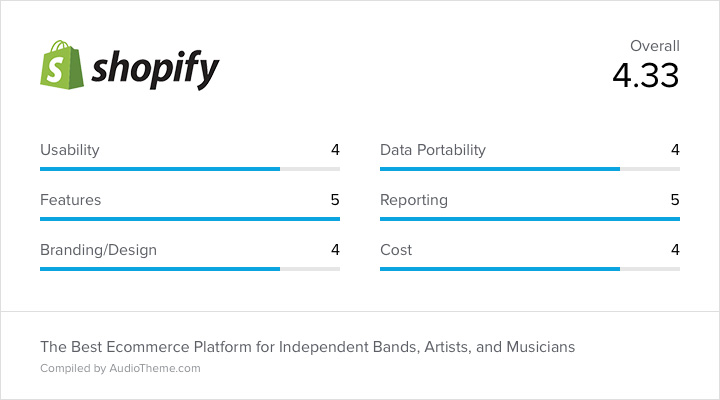 Big Cartel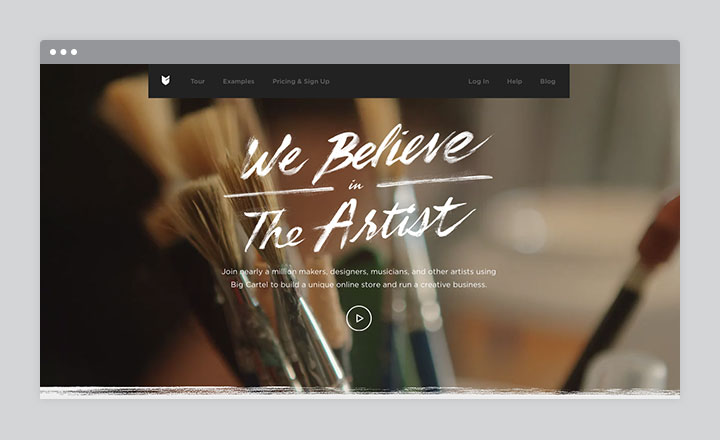 Big Cartel is kind of a strange name for a small company focused on artists, but you can tell they care about helping their customers. They're dedicated to helping you set up an elegant storefront that matches your brand and do a good job of making that possible.
Overall, the interface won't knock your socks off, but it's well thought out, clean and friendly — it's very easy to use.
You can choose a theme for your store and further customize the colors using their built-in customizer. Advanced users can edit CSS and HTML or even build their own theme to make the their shop look just like their website.
However, the platform does have some shortcomings. Big Cartel doesn't handle digital products directly, which is a bit of a bummer. Instead, you'll need to integrate with their sister site, Pulley, to deliver digital products.
You can get started for free. Paid plans start out at $9.99 per month and go up to $29.99 per month depending on how many products you want to sell. All features are included in each paid plan and they don't take a cut of sales — you only pay the standard transaction fees.
If simplicity is your jam, BigCartel is for you.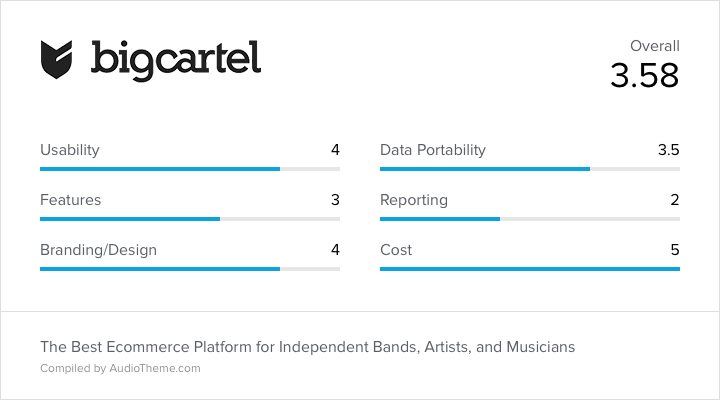 Limited Run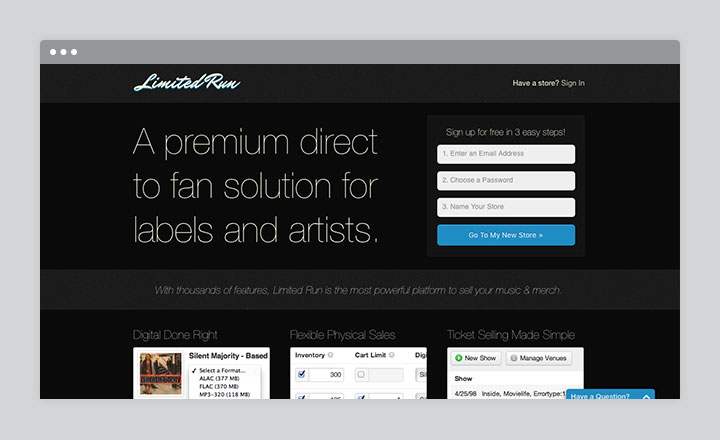 Limited Run is a direct to fan eCommerce solution for artists and labels that offers some nice music-oriented features.
Physical products, digital goods, and tickets can all be sold. The management interface is a bit utilitarian, but it's solid and gets the job done.
A handful of themes are available and they're all nice and clean out of the box, but you can create your own by editing HTML directly.
Overall, Limited Run appears to be a good simple option that's definitely worth checking out.
Sign up for free. Paid plans start at $10 per month and go to $40 per month depending on how many products you have listed.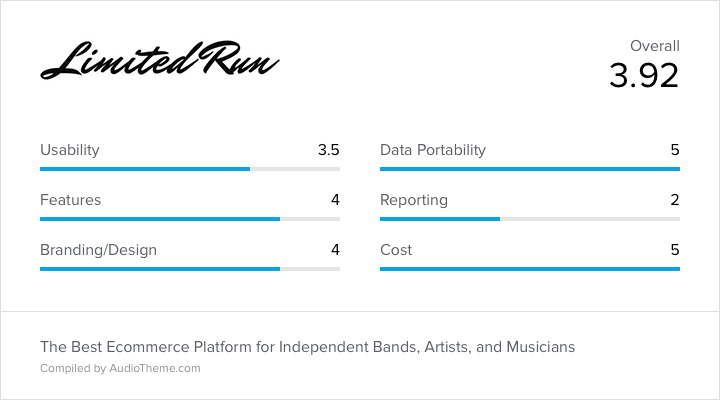 Topspin Media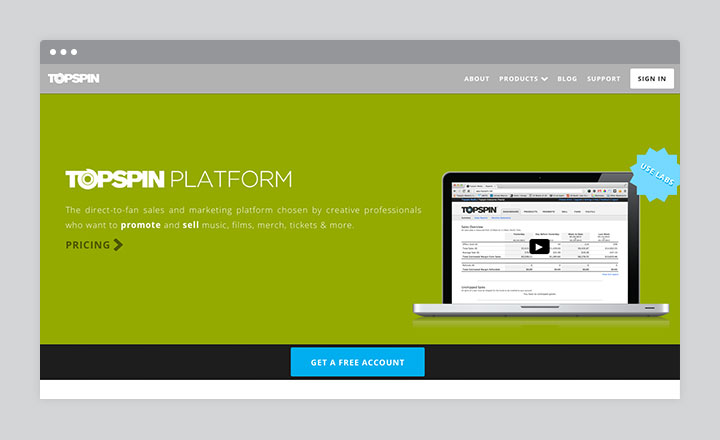 Topspin positions themselves as a sales and marketing platform for creative professionals. They do more than just commerce by helping you collect and send emails to fans.
They take care to note that you own your data, which is an encouraging sign. However, the onboarding process is awkward, setup isn't entirely intuitive, and the interface feels dated and cumbersome.
It's possible to sell physical and digital products, including tickets, and even memberships.
Customizations are limited to colors, but the main focus appears to be embedding widgets on your own site, so the standalone store doesn't need to be super customizable.
It seems like a capable platform for the things it does, it just feels like the user experience is an afterthought and the cost is higher than other options.
A free trial is available for getting started, with paid plans ranging from $9.99 to $99.99 per month. They also take a 15% cut of sales, with credit card processing fees added on. Payments are made within 45 days from the end of each month.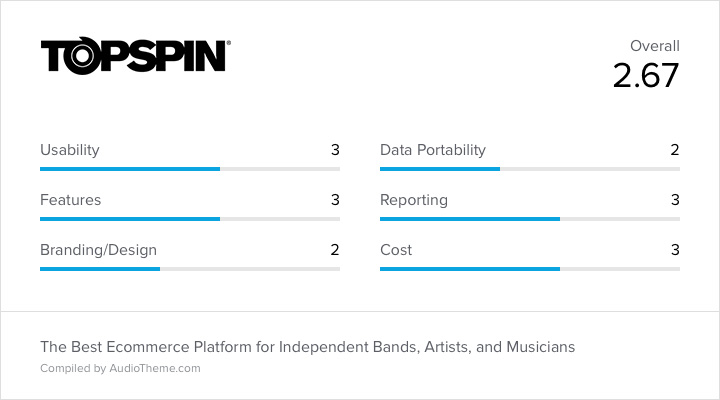 Nimbit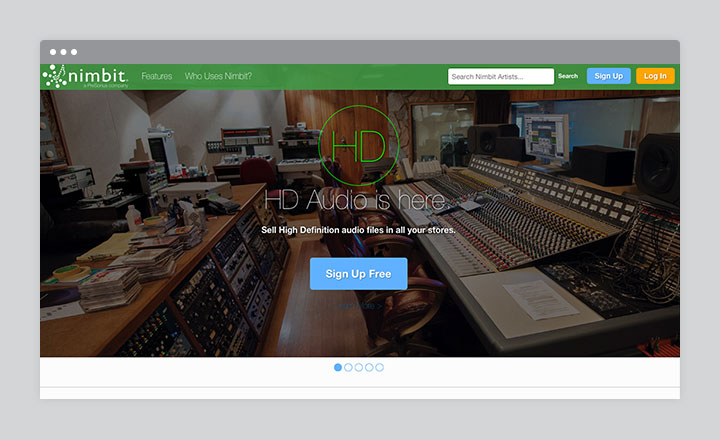 Nimbit is another option in the embedded storefront collection, but offers more than just eCommerce capabilities, including marketing, event and email management tools.
Some of the options are confusing, the interface is dated, and it has very limited theme selection with an awful wood panel option.
I'm sure it's a helpful tool for plenty of artists, but it didn't compare well enough against other options for me to spend much time digging in.
Nimbit offers a free plan that allows you to pay for individual features, or a premium plan for $19.95 per month.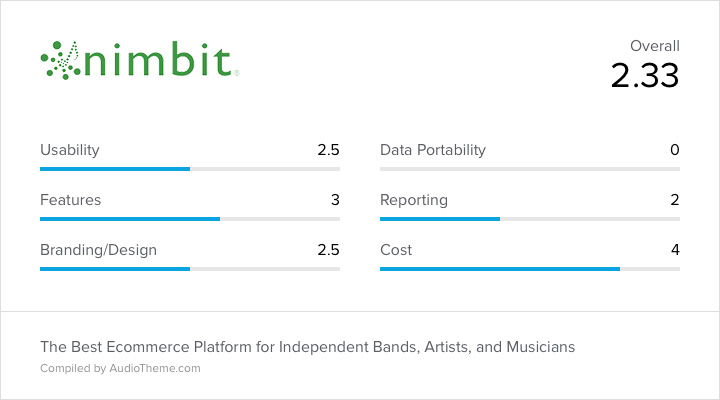 Gumroad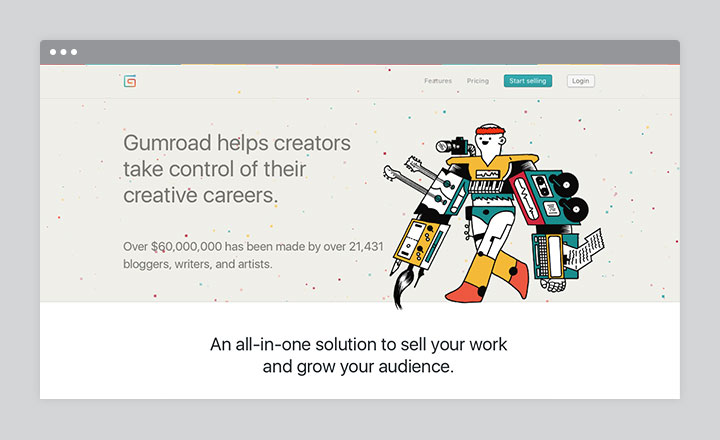 Gumroad is an interesting option for selling products. It doesn't have the most features and doesn't really provide an online storefront or a shopping cart, but it's impressive at what it does. Namely, selling individual products securely from your own site through embedded widgets.
Physical products, digital goods, subscriptions and memberships are all supported.
Customization options are limited to a few themes, although CSS edits can be made with paid plans. You can also use your own subdomain. Considering customers will usually only be seeing embedded widgets on your site, that should be enough flexibility to keep your branding consistent.
Overall, the experience is well-designed and pleasant. There are better options for physical products, but if you're looking for a simple solution to get started quickly without getting overwhelmed, give Gumroad a look.
Pricing for the "free" version is 8.5% + 30 cents of every transaction. The premium version is $10 per month, plus 3.5% + 30 cents of every transaction.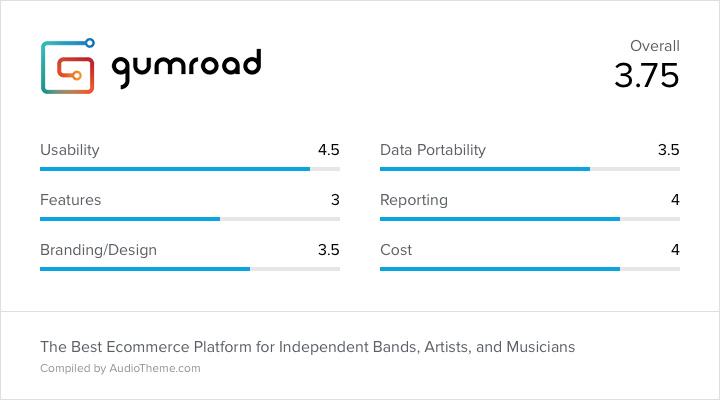 Bandcamp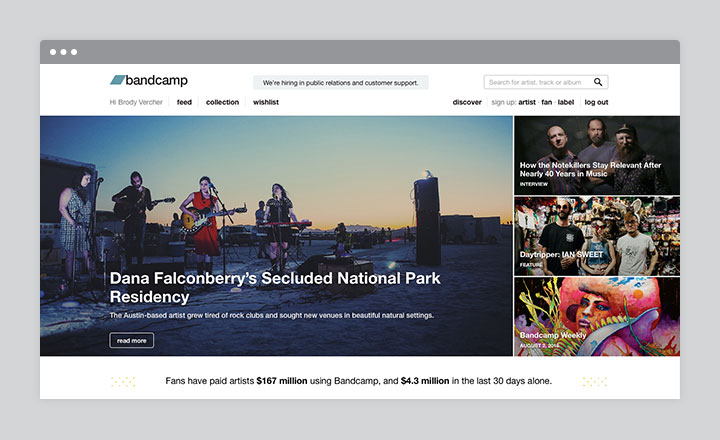 Bandcamp is a tried and true method for independent artists to sell their music, but did you know it allows for selling physical products and subscriptions, too?
It won't integrate seamlessly with your site and customization options are limited, but many customers may already be familiar with their service and familiarity breeds trust and trust is important when trying to encourage someone to buy something.
It's not the most elegant solution, but it is straightforward and to the point.
Bandcamp takes a 15% cut on digital items and 10% on physical goods. Payment processing fees are 4 – 7% extra.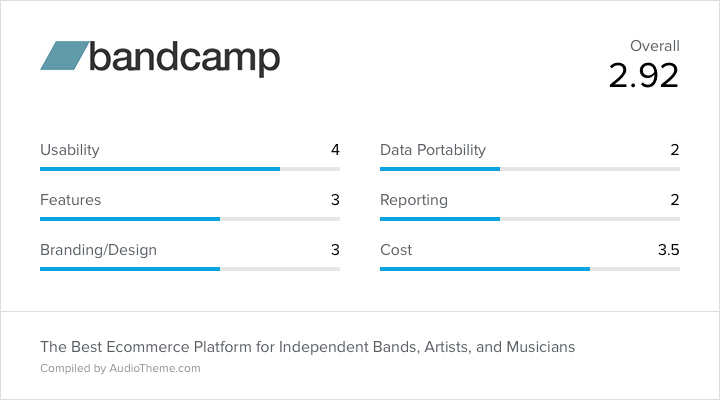 PayPal Buy Now Buttons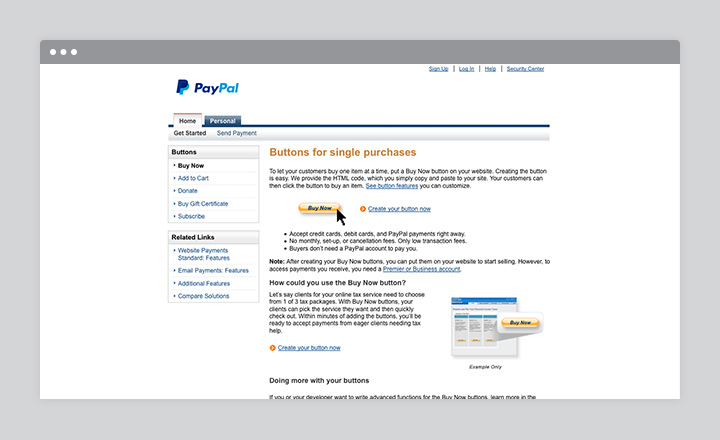 PayPal buttons have been around for ages and were an easy option before eCommerce was more widely available.
Basically, you enter product details on PayPal, add a price, and generate a button that you can embed on your site. When a customer clicks it, they're sent to PayPal where they complete the purchase process. You receive a notification and handle the rest of the transaction manually. The product's details aren't saved anywhere and the workflow can be a bit cumbersome.
There are much better solutions these days, so using PayPal's Buy Now Buttons should be avoided if possible.
PayPal itself shouldn't be overlooked as a viable payment option, though. If the tool you're using offers support for multiple payment gateways, it's worth enabling PayPal to see how well it performs for you.
Recommendations
Best eCommerce Platform Results

| Platform | Product Type | Type | Score |
| --- | --- | --- | --- |
| Shopify | Physical, Digital | SaaS | 4.33 |
| WooCommerce | Physical, Digital | WordPress Plugin | 4.25 |
| Easy Digital Downloads | Digital | WordPress Plugin | 4.08 |
| Limited Run | Physical, Digital | SaaS | 3.92 |
| Gumroad | Digital, Physical | SaaS | 3.75 |
| Big Cartel | Physical | SaaS | 3.58 |
| Bandcamp | Digital, Physical | SaaS | 2.92 |
| Topspin | Physical, Digital | SaaS | 2.67 |
| Nimbit | Physical, Digital | SaaS | 2.33 |
Ultimately, it really comes down to your needs.
If you're only interested in selling digital products, Gumroad is an attractive option.
I really want to recommend Big Cartel, and do if physical products are what you need, but the lack of digital support without using another service is a bummer.
You can't really go wrong with Shopify, especially for more advanced needs.
For complete control over your brand and design, WooCommerce is the way to go.
If you have experience as a band, musician, or artist selling products online and are willing to share your insight with us, we would love to hear from you!