WordPress offers a ton of flexibility for musicians and bands, and it's no secret that we're huge fans.
While the platform is super powerful on its own, it wasn't created specifically with the music world in mind. We've assembled a list of recommended WordPress plugins for band websites to add some of the missing key features.

What are the best WordPress plugins for band websites?
1. AudioTheme

The AudioTheme plugin is a great way to include several major components that a band site needs. It allows you to easily manage Gigs, Videos, and Discography, right from within the WordPress dashboard. With AudioTheme, you have the opportunity to collect all of your content in one central location. This means that you own all of your data, something extremely important when you consider the constantly changing world of social media networks. It also gives you a chance to nicely integrate the most popular reasons someone visits your site into the overall design. No longer do you have to include multiple widgets and plugins that were never designed to look nice together. AudioTheme is the definitive WordPress Plugin for bands.
Learn more about the AudioTheme plugin here.
2. Jetpack

Jetpack is another great multifunction plugin. Linking it to your WordPress account gives you access to several different modules that can easily give your site a few bells and whistles. While Jetpack has some functionality that is better handled by other plugins, you really can't beat it as a one-stop shop for things like: site stats, spam regulation, security enhancements, photo galleries, social sharing, contact forms, widget visibility and other engaging features.
If your website is running an older non-premium theme that is not mobile responsive, the Jetpack plugin includes a mobile theme module which will automatically generate a basic mobile version of your site.
Most of our theme demos are running Jetpack, and if you visit them, you'll find Jetpack being used for tiled photo galleries and simple contact forms.
Learn more about Jetpack here.
3. Contact Form 7
If you want to give someone the opportunity to get in touch with your band while not exposing your email address to the world, a contact form is a great idea. Contact Form 7 is a lightweight, reliable and easy to manage plugin. It's quick to load, thanks to its AJAX-based forms, while the use of CAPTCHA protects your site from unwanted spam messages. If the long list of additional features offered by the Jetpack plugin aren't necessary for your site, Contact Form 7 is a solid alternative.
Learn more about Contact Form 7 here.
4. Mailchimp for WordPress

You already know the importance of having a mailing list for your band. Mailchimp for WordPress make it easy to collect new addresses directly from your site. With the ability to set up a redirect page after the form is submitted, this plugin is a great way to offer an incentive for someone to subscribe.
The plugin works great on its own, but will also integrate with other plugins, including Contact Form 7 and WooCommerce, one of the most popular Ecommerce plugins for WordPress sites.
If you're not using Mailchimp as your mailing platform, you should be able to track down another trustworthy plugin with a little bit of research. Mailchimp just happens to our favorite. You can view the Mailchimp for WordPress plugin on our Hammer theme demo.
Learn more about Mailchimp for WordPress here.
5. Cue (and cue pro)

Cue gives you the ability to add great looking playlists anywhere on your site using widgets and shortcodes. This plugin works great with WordPress' native media manager, making it easy for you to select audio files and images. Cue will stream mp3 files hosted anywhere in the cloud, meaning you don't have to bog down your site by uploading huge audio files. It's also fully responsive so it will look and sound great on any device. You'll find Cue being used on REM and Vic Firth's official sites.
Last year we released a premium version of the popular Cue Plugin. Cue Pro collects stats from all players on your site, and you can view them directly in your admin dashboard. The pro version of Cue also includes new player themes and the ability to add purchase and download links to each track. All of our theme's players integrate with Cue Pro, but it will also collect stats from native WordPress players.
You know your band's website needs to include some music, why not make the tunes look as good as they sound?
Learn more about Cue here.
6. Google Analytics by monsterinsights

Google Analytics is a powerful tool that can help you determine when and how people are visiting your band's site. It allows you to gather valuable data on the types of content that are performing the best for you and what websites or social media platforms are sending you the most traffic. Google Analytics can even help determine geographical locations where you have a large audience, and may want to focus more time.
This Google Analytics plugin was originally created by Yoast, but has since been bought out by MonsterInsights. The plugin allows you to easily enter your tracking code, and then populates the data in your WordPress dashboard, saving you the hassle of logging into your analytics account. It can also track outbound links and downloads.
Learn more about the Google Analytics plugin by MonsterInsights here.
7. Yoast SEO

This powerful plugin from Yoast focuses on search engine optimization. Yoast SEO will actually grade each page and post included on your website, letting you know how it will perform during a search for targeted keywords. Yoast SEO also guides you through the proper way to make your site more search engine friendly and make sure your fans can find your website. SEO is something that you can spend a lot of time trying to understand, without truly getting a grasp of how to effectively optimize your site. Luckily, the step by step setup wizard and excellent documentation for Yoast SEO makes search engine optimization possible for anyone, even musicians.
An added bonus to this plugin is the ability to determine a specific image and craft special excerpts for the major social media platforms. This will ensure that when somebody shares your site on Facebook or Twitter, the proper image and verbiage is displayed.
Learn more about Yoast SEO here.
8. Delightful Downloads

Giving content away on your site is a great idea, but WordPress doesn't include a way to track the amount of those downloads. Delightful Downloads is a good solution for keeping track of these stats. You can upload your content directly to the WordPress admin area, or manually enter file path URLs.
You can categorize and tag each download, block users from accessing files directly, and even password protect files.
Stats are displayed directly within the WordPress dashboard, so you know just how many people have downloaded your content. Some great potential uses are album downloads and electronic press kits.
Learn more about Delightful Downloads here.
9. Simple Page Ordering

If you've ever tried to reorder your posts, you know how time consuming it can be updating the published dates to get the proper order. Simple Page Ordering is a simple yet effective plugin that allows you to change the order of your pages and custom post types by dragging and dropping them into the desired order. The plugin integrates directly with the pages and posts admin screens, saving you even more time.
You can even use this plugin to create a custom order for your AudioTheme Records and Videos archives.
Learn more about Simple Page Ordering here.
10. Spam Destroyer

Unfortunately, spam comments are a reality when dealing with WordPress sites. You could prevent spam comments by disabling all of the discussion functionality on your site. Or, you can install Spam Destroyer which will prevent automated spam messages. Setup is as simple as installing and activating the plugin from the WordPress directory. Spam Destroyer does a great job of preventing unwanted messages without asking fans and other real commenters to jump through too many hoops.
Learn more about Spam Destroyer here.
11. WP Super Cache

Even if your site has a ton of great content and music, if it takes forever to load, people aren't going to stay long. WP Super Cache is a great way to speed up your site, and keep your visitors happy. It works by generating static html files (which load much faster than WordPress PHP scripts) and serving them to the majority of people who visit your site.
WP Super Cache is intuitive and designed to be aware of when changes are made. However, it's still a good idea to disable the plugin while making major changes and flush the cache after making even minor changes.
Learn more about WP Super Cache here.
Simple Cache is a great alternative that is even easier to configure. If you don't find it necessary to regulate and adjust the types of caching on your site, this plugin has a one-click install with no other settings. Simply install and activate.
Learn more about Simple Cache here.
12. Simple Image Widget

Images play an important role in your band's website. Out of the box, it's not super easy to add images to sidebars and widget areas in WordPress, much less change image size, add text, or create links. The Simple Image Widget allows you to do all of these things easily. Add an image, set the size, insert a link, and add text, all from the widget area of your WordPress dashboard.
Learn more about Simple Image Widget here.
13. Billboard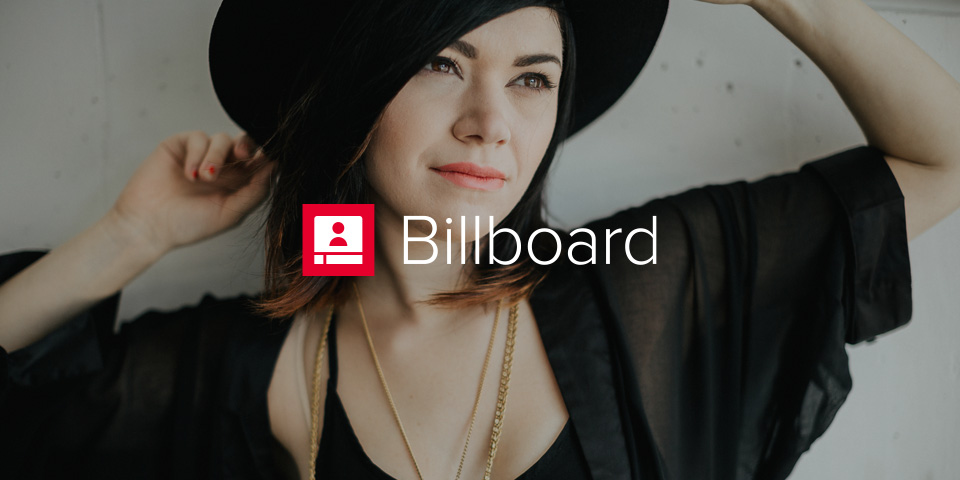 Billboard is a plugin posing as a theme and is the quickest way to create a microsite that includes all the necessary information for a band's web presence. It combines a stunning full page image with striking headlines, an audio player, and social media menu all on one page. It's a great way to announce a new record, new video, or to create the perfect "coming soon" page while you work on your main site.
You can manage the plugin directly from the customizer. Like everything we make, Billboard is completely responsive, so it will look great on any device.
Learn more about Billboard here.
Can you recommend any WordPress plugins for band websites?
This list of WordPress plugins for band websites should get you on your way to building the best site possible. Do you feel like we've left something off the list? Do you have a go-to plugin for musicians? Please share your thoughts and recommendations with us in the comments section.