Showcasing music is an essential part of every musician's website. After all, the music is what it all boils down to, right?
That's why each of our themes features audio players in various locations: Americanaura with a site-wide, continuous player anchored to the bottom of the screen; Nowell features a slick lightbox popup; and Shaken Encore with players on the homepage and the sidebar. In some cases, these can be tied directly to a record in the discography, but often-times, people want to feature an arbitrary selection of music from across their catalog — a playlist if you will.
We've been keenly aware of the shortcomings of simply selecting a record or multiple tracks and decided we needed to improve the experience and make it as easy as possible to feature the music you want featured. Our initial goal was to bundle this functionality into our framework and make it available to our Professional and Developer license holders, but along the way we realized the ability to create playlists in WordPress would appeal to a broader audience. Plus, we selfishly wanted to use it in all of our themes and allow everyone else to use it, too.
We decided the best approach would be to deliver a premium plugin at a non-premium price (FREE).
The WordPress space is exploding and we're seeing more and more basic features released as commercial plugins. There's nothing wrong with that — releasing free plugins isn't sustainable for any single developer or company. At the same time, AudioTheme wouldn't be possible without the contributions of so many, so why not give back? We've already released a free plugin for creating basic photo albums and a free child theme with AudioTheme support, but this is a little more than that.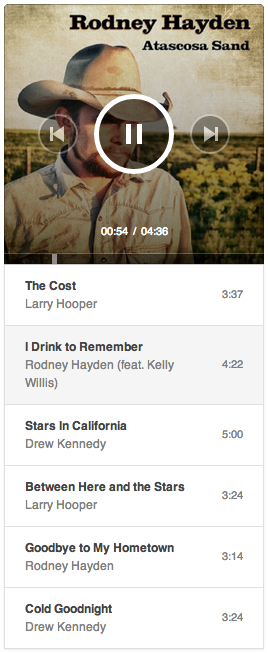 We feel like AudioTheme is more than just a feature, it's a platform (on a platform, of course). We'd love to see people extend it, so we're getting the party started.
Meet Cue
We think Cue is the absolute easiest way to build a playlist in WordPress. Not only is it easy, it comes with a beautiful front end player. Seriously, let us know if you find a better looking playlist out there.
Cue is ready to use right away, with any WordPress theme, and it's completely responsive.
In the coming weeks, we'll be integrating additional support into our framework to extend Cue, allowing for seamless integration with the various audio players in our themes and giving AudioTheme customers the ability to add individual tracks from their discography to a playlist.
Technical Details
Being a developer, I'd love to write about all the technical details — how it's using Backbone.js, Sass, and various Grunt packages; even the icon implementation for the front-end players is completely CSS-based — but I won't bore you with the details. If you're interested, the code is on GitHub and all comments and contributions are welcome