Nowell is a 100% responsive WordPress music theme focused on clean simplicity from the front page to the archive pages. The idea behind Nowell was to simplify the home page and help focus visitors attention to content we want them to see. More often than not, music sites tend to be overloaded as far too much information on the home page, making it difficult for the visitors to focus and find what they're looking for.
Sidebars & Widget Areas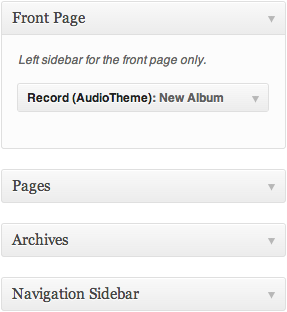 Nowell comes with a variety of sidebar locations for different types of pages within the theme; Front Page, Pages, Archives, and Navigation Sidebar. Each these widget areas are optional. If a widget area does not have any widgets, the content width will automatically expand filling that space.
Nowell also supports all the currently available AudioTheme widgets; Record, Track, Video, Upcoming Gigs, and Recent Posts. A unique feature of Nowell is how it displays Record, Track, and Video media via a lightbox. A lightbox makes previewing any one of these media types quick and easy without loading a new page.
Social Icons
The social icons shown in the lower right corner of the demo can easily be created/updated using WordPress menus. By adding a special class name to the menu item, Nowell will automagically display an icon for the social media link. The theme documentation has more information on icons currently available within the theme.

The icon displayed is determined by the URL provided for the link. For example, if a custom link has twitter.com in it, Nowell will know to show the Twitter icon.
It's also worth mentioning the social icons used in Nowell are font icons and not images. This makes it easy to customize the icons with CSS, as well as add new icons in the future.
Video & Record Lightboxes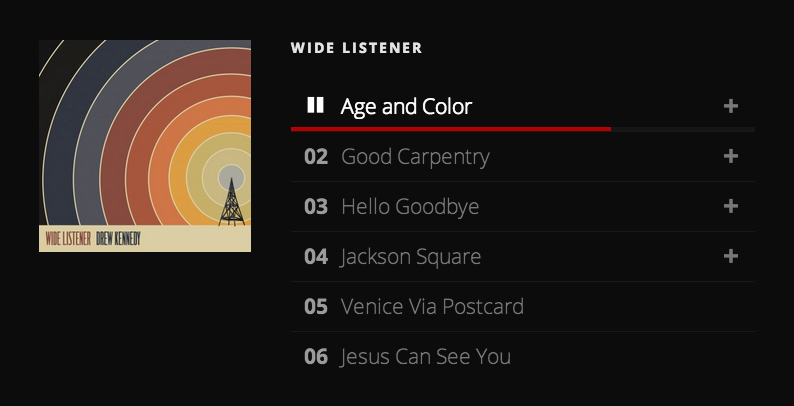 Like the Record, Track, and Video widgets mentioned earlier, the Record and Video archive pages can also display the media via a lightbox. By clicking on the play icon, a records tracklist or a videos media object will be displayed within a lightbox using AJAX. AJAX helps keep content from loading until we need, thus making page loads quicker but not loading content we may not see.
AudioTheme Archive Menus

Create custom menus for each AudioTheme archive page. Using WordPress menus, you can quickly create links to past gigs, a specific record type, or provide any custom links desired. By design, the archive menus were intended to act as filter menus, but could be used in any way you wish.
The Hero Area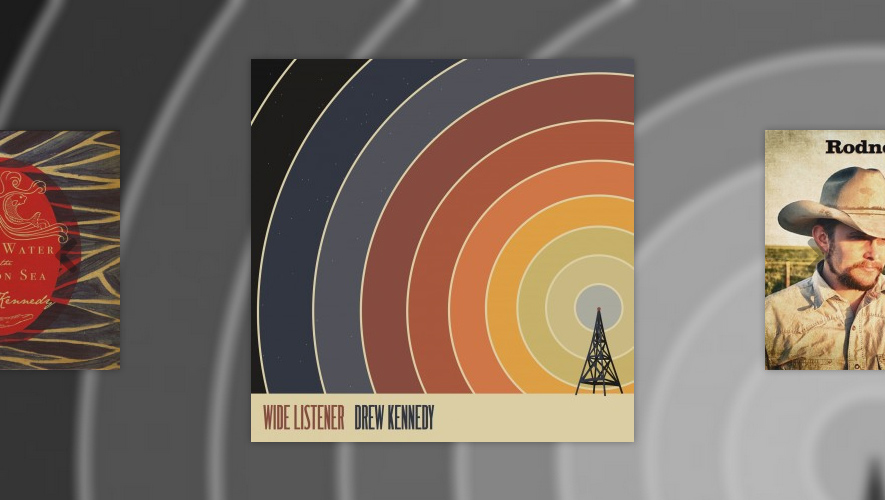 The Hero area in Nowell is one of the more prominent components of its design and offers endless opportunities to create unique, creative, and dynamic pages.
Hero Images
The Hero area can showcase a single image by setting a featured image for any Post, Page, or AudioTheme Archive. The option to spice up the image is available by providing a caption and/or a description, both of which will overlay the image. The description area of an image can contain text, links, images, shortcodes, or even video embed URLs making the options endless when it comes to creating dynamic hero images for advertising products or promoting gigs.
Hero Image Links

To take things a bit further, we've built in a custom Hero Link option for image attachments. This allows you to set a relative or external URL for each image. Want to create an image add for your next record available on iTunes? You can do that and link to the iTunes page!
We didn't stop there, I'm afraid. We took things another step further by building in logic to detect if the Hero Link URL is relative to the site or an external link. If the link is external, we'll open that link in a new window allowing your visitors to stay on your site while also being able to view the linked content.
Hero Sliders

If showcasing a large static image isn't enough and you're looking for a little more "flair", maybe an image slider will do the trick. Nowell allows you to quickly and easily create and edit image sliders in the Hero area for any Post, Page, or AudioTheme archive. The images shown in the slider have all the same features and functionality as if it were a static image; captions, descriptions, hero links, and hero link target features all apply.
Customization Settings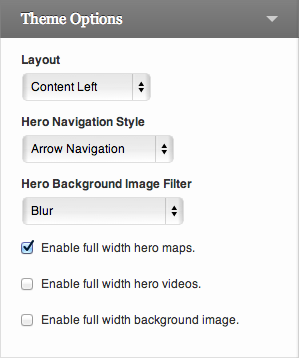 By default, Nowell doesn't include a theme options page per se, but it does include some theme options via the WordPress theme customizer. Options to change the layout, hero navigation style, hero background image filter, enable full width hero maps, videos, and background images are all available.
Outside of the themes specific customization options, Nowell has built in support for core WordPress features, too. WordPress background, headers, menus, featured images, and HTML5 forms are all supported and ready to be customized.
Search Engine Optimization (SEO)
When you purchase a premium WordPress music theme from AudioTheme, you're getting a fast, reliable, and SEO friendly theme. This is especially true when it comes to Nowell.
We've taken the time to integrate Rich Snippets into all pages and types of content. From standard WordPress pages to blog posts to AudioTheme records, we've integrated the necessary markup to help search engines know what type of content is being displayed. Rich snippets will improve your SEO ratings as well as display the content a bit differently with Googles search results depending upon the content type.
Responsive Design
The use of mobile devices is on the rise, and it is important for your website to be ready for those mobile visitors. Nowell comes fully responsive, meaning that the design will adapt to whatever screen size or devices is being used to browse your site.
Plugins
While only the AudioTheme Framework plugin is required, Nowell has built in support and styles for various other plugins to achieve certain features and functionality that is better served via a plugin. Below is a list of supported plugins at the time of this post.
View the theme documentation for an updated list of supported plugins.