The AudioTheme Framework plugin is designed to work out of the box without needing any configuration. However, we understand that some minor customizations and tweaks might be required to fit with a particular musician's style or genre. In this post, we'll cover some of the customizations we're most frequently asked about.

A Note: It's important to establish your site early
Most of what we'll be discussing in this post will affect permalinks. Changing permalink structure after a site has been active for a while can lead to problems and potential traffic issues. If this is a concern for your site, I'd suggest reading this post on permalinks and how to avoid problems after making changes.
What is an archive?
In my opinion, the best part of any AudioTheme site is the framework it runs on. When you add gigs, videos, or records, they are collected on separate overview pages called archives. Having archives for each of these aspects of your website means a much less labor intensive way of managing and updating content.
How can I change the name of the archive?
We get it. "Gigs" is a term that you might not want to use if you're a motivational speaker or even a concert pianist. Changing the name of the archive is easy. Simply navigate to Gigs → Archive, and change the content in the title box.
You can also update the permalink to the archive directly underneath the title box. Remember, make sure you've properly prepared for changing these permalinks!

What about "No gigs are currently scheduled?"
You might notice that even after you update the archive name, if no upcoming gigs are listed, the default text still says "gigs" and not whatever you replaced the title with. This is because that string is hard-coded into the theme and isn't editable within the admin panel.
You can still make updates to this verbiage using a plugin called "Say What."
After you've installed the plugin, navigate to Tools → Text Changes and add a new entry to change the original string that uses that language. You'll need to make sure that you have the proper original string for the theme you're using. They may not all be identical to the example below.
For example, if we were using Promenade and wanted to change the terminology from "gigs" to "shows," the new entry would look like this:
Original string: No gigs are currently scheduled.
Text domain: promenade
Text context:
Replacement string: No shows are currently scheduled.

How can I create a specific menu for my gig archives page?
By default, AudioTheme shows only the upcoming gigs on the archive. Gigs that have already taken place are not deleted. There are several reasons you might want to display past gigs on your website. Here's how you can add an archive menu to your site, as displayed on most of our demos, like Promenade, Obsidian, and Twotone.
The gig archives menu is found under Appearance → Menu. You can then click "create a new menu."
When your archives are set up properly (regarding permalinks), you can use custom links to organize your archive by year.
For example:
If http://example.com/gigs/ is the gigs archive, it would show all upcoming gigs
A list of all past shows could be found at http://example.com/gigs/past/
Specific years could also be show such as http://example.com/gigs/2014/ or http://example.com/gigs/2013/
Below the links you've just added, you'll see a list titled Theme Location. Selecting gigs menu will place it at the top of your gigs page.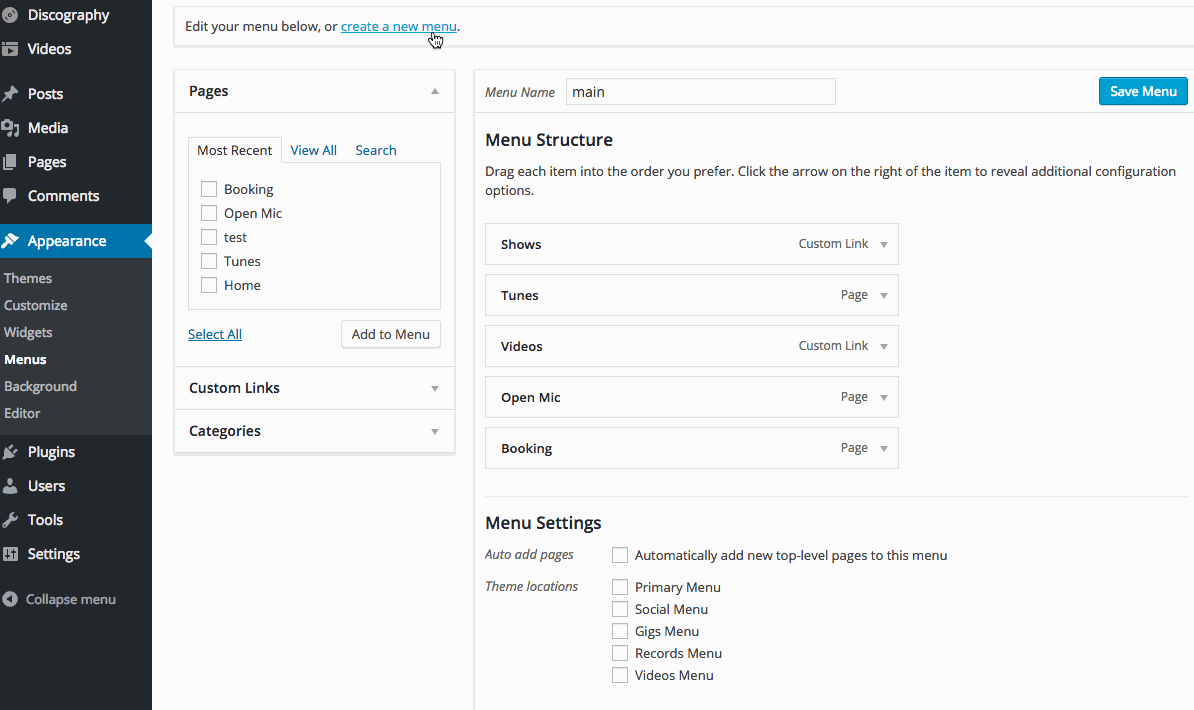 You can find us across the web:
AudioTheme.com
Facebook
Twitter