Your discography is the window through which listeners are introduced to and discover your music. Encourage that discovery on your website through a detailed and organized history of your recorded output using the AudioTheme discography panel.
All Records
The Discography → All Records option provides an overview of your recorded music. Select an individual record to edit its details. The process of editing the details of a record are essentially the same as adding a new record. To view the elements of a record, see Discography → Add New.
Add New Record
The Discography → Add New screen allows you to add a new record to your discography. Records consist of an album, a single, or a collection of singles.
It's important to understand the relationship between records and tracks in AudioTheme. Records are collections of tracks or even a lone track, so they represent albums or singles and are typically the page you will link to when promoting your music. Don't think of them as only being albums.
For instance, if you want to promote a new digital single called "My Fabulous Song," you would create a record called "My Fabulous Song" and also a track called "My Fabulous Song."
Alternatively, each track in a record will also have its own permalink, so you could promote the track if your single does happen to belong to an album that has already been released. However, the design for record pages will typically be more elaborate, allowing for artwork and purchase links to multiple sites.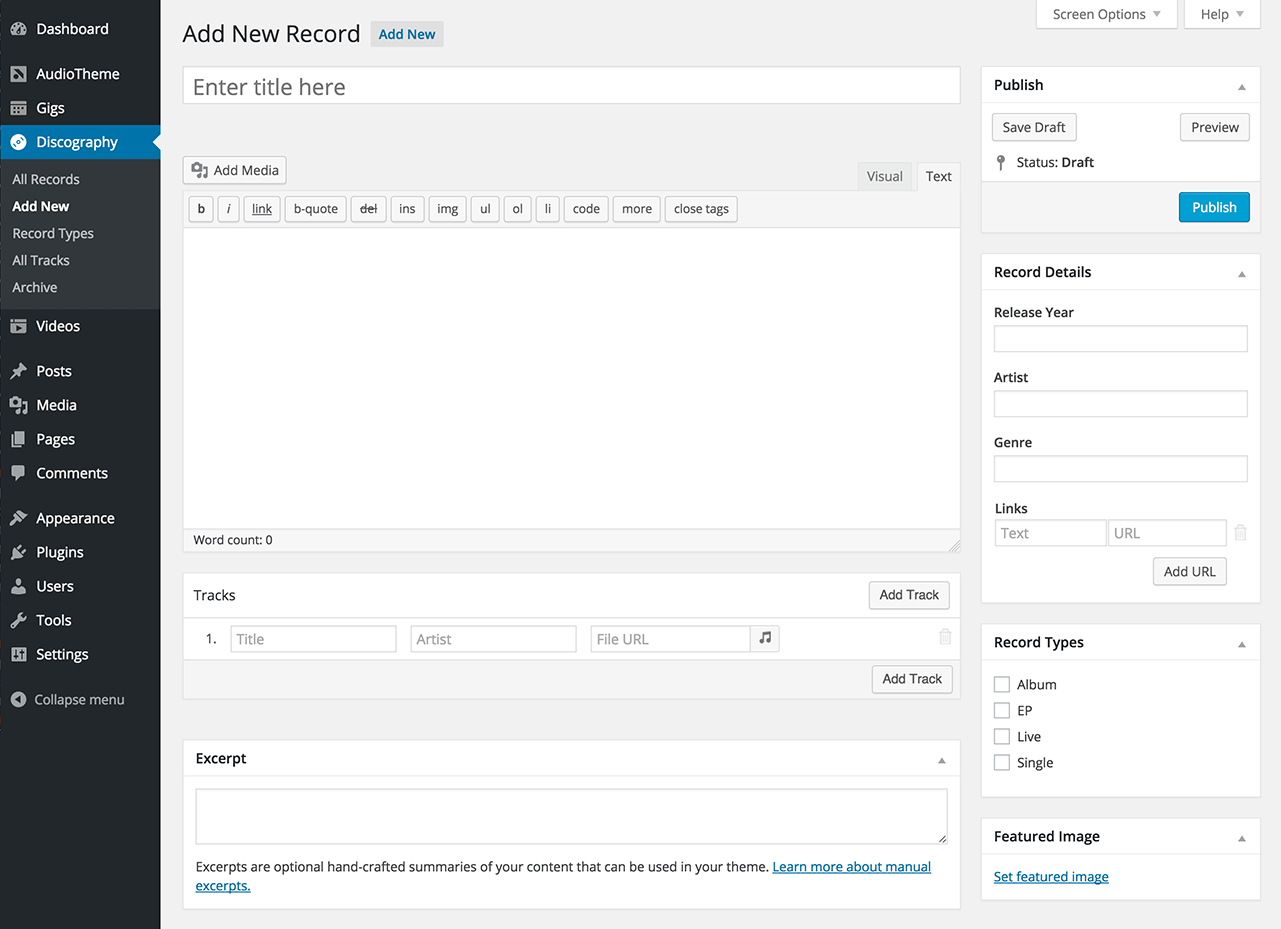 The elements of a record include:
Title
This is the name of your record. If your record is an album, put the album title here. If it's a single, enter the single's title. If you'd rather add all of your singles as a collection, then you'll need to give that collection a name here.
Editor
Describe your record. You can write about the inspiration behind the album, the recording process, the song selection, credits for the musicians, etc.
Add Media
Use the Add Media button to attach media to your record. This might be a documentary about the recording process or promotional pictures. Don't add your cover art here, that should be added in the featured image area. Find out more about using the Add Media button in the WordPress Codex.
Tracks
Tracks are the individual audio segments/songs you want to associate with your record. Use the Add Track button to add as many as you'd like.

Title
Enter the title of your track/song here.
Artist
Use this field for the track artist(s). Does the track feature a special guest? Put that here, too.
File URL
This field lets you attach audio for streaming or download.
Record Details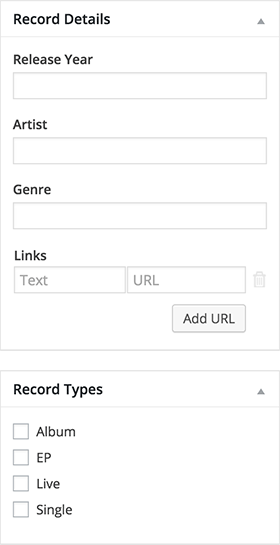 Provide additional context to your records using this module.
Release Year
Help fans differentiate between new and older recordings.
Artist
Use this field for the main artist of the record.
Genre
What genre would you classify your record as?
Type
Does your record consist of an album or single(s)?
Links
This allows you to link to any additional resources. For example, if you want to direct fans to download your album on Amazon, enter "Amazon" in the text field and put the web address to your record on Amazon in the URL field. Add as many resources as you'd like using the Add URL button.
Featured Image
Use the featured image section to add cover art to your record. It's likely this will be used in various place in your theme, so it's best to upload high quality images. Find out more about setting featured images in the WordPress Codex.
When you're done adding a record, press the Publish button to make it available on your site. If you're not ready to publish, or want to finish updating your record later, press the Save Draft to privately save your progress. You can access your drafts at a later time through the Discography → All Records screen.
All Tracks
The Discography → All Tracks option provides an overview of every track you have added and allows you to filter the tracks by record.
Select an individual track to edit.
Editing a track here allows you to add even more details. For instance, you can allow downloads of your audio files or add lyrics to the main editing area.
Archive
To learn more about the Archive option, view the article on Setting Up Archives.