Using the video panel, AudioTheme allows you to collect your videos from a wide variety of supported services and present them to your fans on your website.
All Videos
The Videos → All Videos screen provides an overview of all the videos you have added. Select an individual video to edit its details. The process of editing the details of a video are essentially the same as adding a new video. To view the elements of a video, see Videos → Add New.
Add New Video
The Videos → Add New screen allows you to add a new video to your library.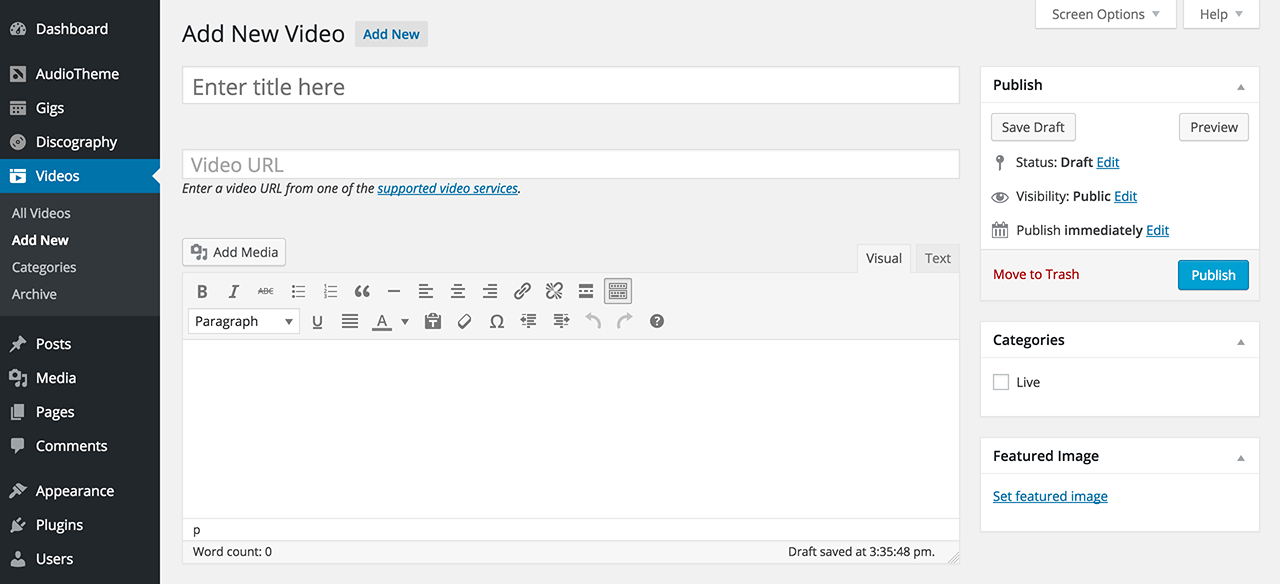 The elements of a video include:
Title
What is the title of your video? Format this any way you'd like (eg: Artist – "Video Title").
Video URL
This is the link where you video is currently hosted. For example, if your video is on YouTube, place on YouTube link here.
Video Preview
Preview your video here.
Editor
Write about your video here.
Excerpt
Depending on the theme you have activated, this is a brief expert that may appear in your list of videos. Visit the WordPress Support section to learn more about excerpts.
Tags
Tags help you link similar content together, in this case, videos. Visit the WordPress Support section to learn more about using tags.
Featured Image
This is used to set the thumbnail that will represent your video throughout your site. Make it interesting. You can choose the image through the normal process of setting or a featured image, or click the Get video thumbnail link (you'll need to add a URL to the Video URL field for this to appear) to grab the image directly from the video service. Find out more about setting featured images in the WordPress Codex.
When you're done adding a video, press the Publish button to make it available on your site. If you're not ready to publish, or want to finish updating your video details later, press the Save Draft to privately save your progress. You can access your drafts at a later time through the Videos → All Videos screen.
Archive
To learn more about the Archive option, view Archive Setup.