Imagine you're playing a gig at a small venue. There aren't very many people around but you can tell that those who are there are enjoying your music. After you finish your set, someone from the audience walks up and asks for your card.
A few years later you get a call from the same guy who explains that he happens to work at the White House, and he thinks the President would really like your band.
It seems like a ridiculous scenario, right? Except it's not. That's exactly what happened to Pat McGee back in the 90s. The Pat McGee band got a chance to perform for President Clinton, all because they had a card ready to hand out.
The Importance of Gig Cards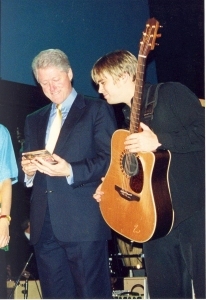 Gig cards, or better known as Business cards, may seem outdated. They're not. I can tell you from personal experience that my cards are the single most important audience building tool I can take to a gig. I haven't been lucky enough to meet anyone who happens to work at the White House, but I can credit several private party and corporate event gigs to having a card to hand out.
Gig cards are a great way to give people a physical reminder of who you are. It also lets them know that you take your music career seriously.
What Should a Gig Card Include?
With a gig card, you can literally put all of your information into someone's hands for a very small amount of money and effort. Your cards should direct that person to the resources you spend time building and maintaining, including your website, your social media, and contact information.
Here is the info your gig cards should contain:
Logo (if available)
Name / Band Name
Website
Email Address
Phone Number
List of Services (optional)
Adding a list of services could be helpful to give users an idea of what you can do. For example, if you do live music, live sound, MC services, DJ services, etc.
Does the card need to be double sided?
The short answer is no. However, I've found that for a small amount more, you can get the second side printed, which makes the card look more polished and gives you a bigger canvas.
A double sided card allows for additional information to be added or current information to be organized differently. We don't want to the card to be too busy and hard to read but we do want to take advantage of the opportunity a gig card provides.
Here is additional information to consider adding to double sided gig cards.
Social Media
Gig list
Single gig promotion
Promo Codes
Logo on one side
If adding social media icons to your gig card, I recommend using icons for the platforms you're using. If you're on a good number of social media platforms, consider just showing icons for the ones that have the most engagement between you and your audience.
Listing a set of gigs on a Gig card could be an interesting tactic. It might be a list of gigs for a particular week/month, or possibly a set of featured gigs you'd like to highlight for the year. It could be that you booked a big gig and want to promote that individually.
If you happen to use a service or have a site setup to handle promo/download codes, the gig card could make a great resource for getting the information out along with your contact details.
How to Create a Gig Card
Creating a gig card is relatively an inexpensive process that won't take to much of your time to create. In this section
Design
It's a good idea to keep consistency with your branding and image across all of your touchpoints. If you have a website, you can transfer the site's look and feel to your cards design. This creates a connection for people landing on your website from the information provided by the card along with providing a greater sense of professionalism. You can do this by integrating your site's colors, photos, and even fonts.
Below is an example of the gig cards I use when playing with my band, The DuoTones. The look and feel of card design is very similar to our website, which uses the Twotone theme.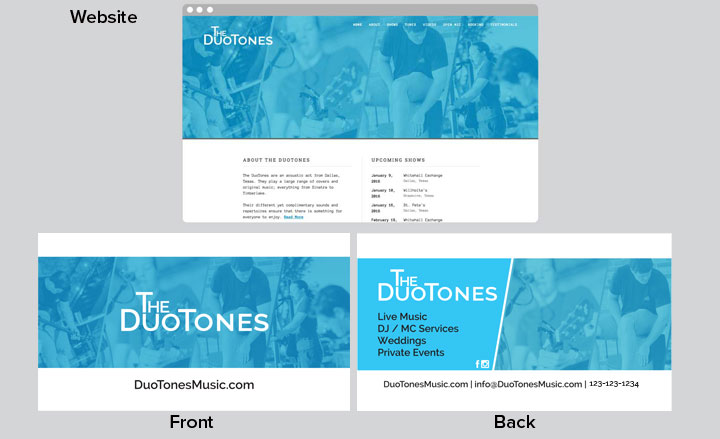 Below, we've created some Photoshop files you can download and edit directly. If you don't have Photoshop, you could create your own templates using programs in the Microsoft Office suite or one of these free Photoshop alternatives.
Printing
I prefer to get my cards printed locally, but there are several online services that do a great job such as PsPrint or Moo. A local shop will typically cost a little more money, but tend to deliver a nicer product. For example, our DuoTones cards are printed on 17pt stock, the front side is glossy, while the back side is matte. 1000 of these cards costs us about $75. While that may seem a bit expensive, we're very proud to hand them out!
How to Hand Out Gig Cards
When playing with the DuoTones, I leave a stack of our cards at the foot of the stage near a tip jar. Every now and then between songs, we'll mention the cards over the mic and encourage people to come pick one up.
When I'm playing a solo show, I mention that there is a free copy of my record available online using the link on my card. Having an offer like that is a great way to get people to visit your website and usually results in them coming to another show.
You'll also want to carry a few of your cards on you at all times, even when you're not playing, just in case an opportunity to play for the President arises.
Do you have gig cards? Have you found them to be useful? Feel free to add your comments or  questions in the comment section below.