It's hard to believe, but Shaken Encore, our very first theme, was released over two years ago. In internet years, that's ancient.
AudioTheme, WordPress, and themes in general have seen major changes in that time and needless to say, we've learned a lot and improved the way we build themes.
With a bit of reflection and a lot of excitement, we're saying goodbye to Shaken Encore and welcoming its replacement…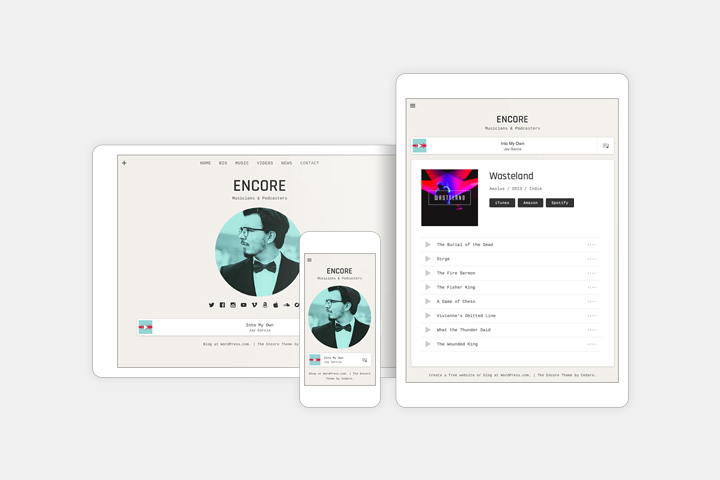 Encore has been completely redesigned and built from scratch to take advantage of the latest and greatest, while keeping the simple spirit of Shaken Encore alive. It can be used for simple landing pages or full-featured sites with discography and ecommerce support.
The Encore theme by @AudioTheme is an excellent example in restraint without sacrificing quality https://t.co/zU5yBNI20S

— Erik Ford (@okayerik) May 13, 2015
The improvements are too numerous to list, but here's some of what you can expect:
Encore is fully responsive to work on all your fans' devices (mobile phones, iPads, etc).
A custom, site-wide audio player that remembers the play state as visitors browse your site.
A built-in menu with a unique solution for accommodating all of your social media links.
Support for all functionality available in the AudioTheme plugin, including widgets.
Better markup for improved SEO.
More details are available on the Encore product overview and be sure to check out the demo to see it in action.
Where to Get Encore
You can buy Encore here on AudioTheme.com. Despite the huge increase in value, we're keeping the theme priced at $59 for a limited time. Don't wait too long, we're planning to raise the price soon.
We're also happy to announce that Encore is available on WordPress.com and passed their rigorous review process in under two weeks! As with all our themes, you can be sure the code that provides the foundation exceeds industry standards.
Existing customers who purchased Shaken Encore in the past year or have an active license can open a support request and we'll add Encore to your account.
Play on!