Bands have been setting up merch tables at shows forever. They're a great way to supplement income. They also offer fans a chance to buy a souvenir that can help them remember the great performance you just gave. In this post, we've assembled a list of tips for selling more band merchandise at shows and online.
A bit of history
Previously, selling merchandise was a simple way to add another revenue stream to a band's income. A few bucks here and there was all it really promised, as CD sales were the primary way of making money. More recently, however, streaming has taken a big chunk of income straight out of artists' pockets (while offering other benefits).
Merchandise has taken on a bigger role in recent years. Major touring artists can earn millions of dollars from merch sales! Smaller bands are also getting in on the action. Nearly every band now has a robust merch table, selling way more than simple t-shirts and posters.
If you're performing regularly, have a decent following, and are being asked to sell merchandise, you could be leaving money on the (merch) table.
Increase your sales in person
Have you ever noticed how long the line gets at a merch booth right after the band finishes playing? There's an impulse that most audience members experience immediately after hearing the last note. Fans are driven to get something that will remind them of how awesome the show was. You can take advantage of this, and help ensure that fans get something they'll be glad to take home.
Be there
Let the audience know that you'll be heading over to the merchandise table after the show. Sign items that fans have purchased, snap selfies, and and enjoy some conversation. You'll create a positive experience your fans can look back on and enjoy every time they pick up that CD, t-shirt, or poster they bought. Don't forget to ask your merch booth attendee to be super friendly when you're not around.
Spend some time making your booth look cool
Select the right spot for your booth. Choose a place that is easily visible from all areas of the venue. Spend some time arranging your items to make sure that each one is visible. Lights are super cheap, easy to travel with, and can draw attention to your booth in dark venues. Fans can get caught up in the moment and completely forget that they wanted to take something home. Calling attention to your merch booth can prevent them from leaving without making a purchase.
Have something for every price range
Some fans will be able to spend a significant amount of money, and may buy several items. Some fans may be on a budget and will have to leave empty handed if you don't consider them while stocking your booth. Selling smaller items like stickers, pins, and patches, for a few bucks can ensure that everyone can afford something. Plus, you're still making a sale. Many bands will also offer something for free. This can be a great way to drive people to the booth.
Increase your sales online
If you have merchandise created and are already selling it at your shows, make it available online. You may find that fans want to make a purchase but need to wait until it's possible for them. Give them the opportunity to order online. Several of the tips we discussed about in person sales also apply to online stores.
Make your online store easy to find
You don't want fans to have to go searching for your merch booth in a dark venue, right? The same principle holds true for online sales. Make your store easy to find on your website. There should be a link in the top navigation. You may even want to call attention to featured items right on your home page. Our Merchato theme includes features that make your store stand out.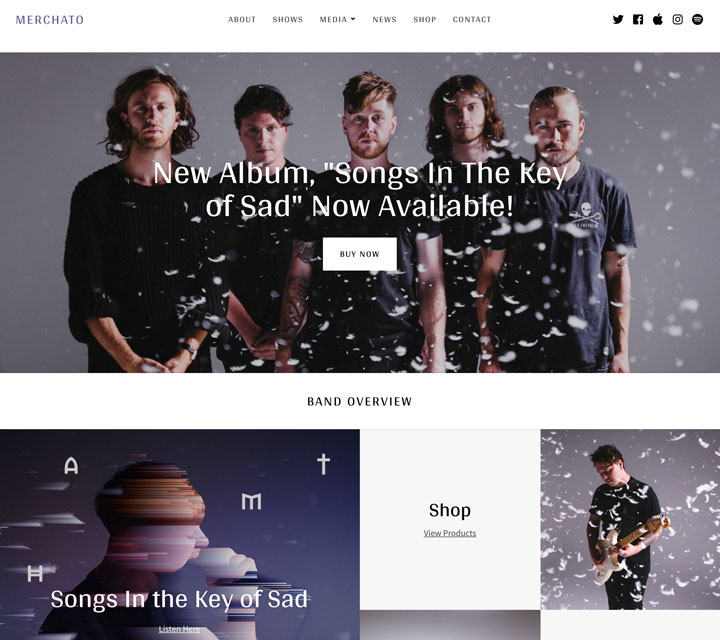 Keep it organized
Make it easy for a store visitor to find exactly what they're looking for. Spend some time creating categories that make sense. If you're adding new products often, you may need to update your categories.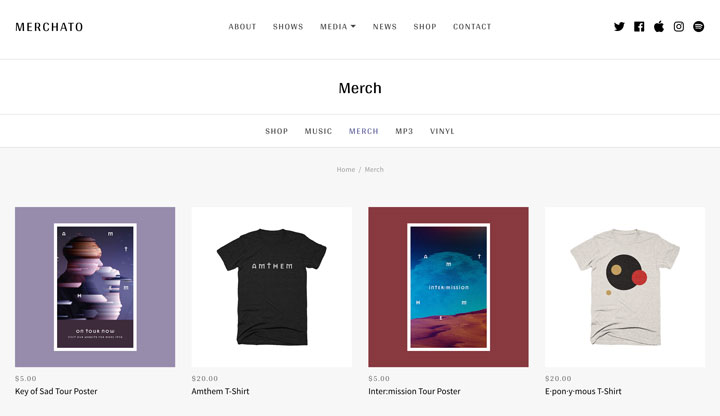 Update your inventory
Pay attention to what is selling and make sure to order replacements as necessary. Frequently swapping out your featured items, and running sales are good ways to keep fans coming back for more. If you have enough merch to sell, you may want to add a featured item to your newsletter to drive sales.
Big quick to ship
There's nothing more annoying than being excited about a purchase, only to wait weeks for it to arrive. As the economy is becoming more "on-demand" everyday, customers are getting used to receiving items almost instantly. Smaller operations aren't expected to offer two day shipping, but your customers won't want to wait for you to "feel like" shipping their items.
Offer a bonus
If someone is going to order something online, go ahead and sweeten the pot a bit. You can include a pre-printed thank you card or free sticker to say thanks. A little something extra can make a big impact with a fan.
Wrapping up
Selling merchandise can offer an additional, steady stream of income to artists. Having fans walk around wearing your name on the shirt can also increase your exposure and grow your fan base. Creating and selling merchandise in person and online is now easier than ever, and doing it the right way can result in better sales.
Do you have any tips for selling more merch in person or online? Share them in the comments!