When considering how to sell your band's music and merchandise online, there are several options available. You can choose to use a hosted solution such as Shopify or BandCamp, or allow a third party such as Amazon or CD Baby to sell and fulfill your products for you. Many of these services charge monthly fees and/or take a percentage of your sales as commission. While these fees and commissions might not seem like much, adding them up over a few years can cut into your profit. An alternative that allows you to maintain control over your products and profit is to create a WordPress music store.
Creating a music store on WordPress allows for a great amount of flexibility and control over your eCommerce site. Right out of the box, WordPress is great for search engine optimization. It's also open source, and the ever growing percentage of websites using WordPress (over 25% of the web) means there is a huge amount of support, third party add-ons, and documentation for the platform. While setting up an online music store in WordPress may require a little more work in the beginning, the customization abilities, low cost, and longevity of WordPress make it a worthwhile effort.
In this post, we will cover the tools you need to create your own online music store using WordPress.
What will you need to build your own WordPress music store?
A hosting plan and domain name
WordPress
A WordPress theme
SSL certificate
eCommerce plugin
Payment gateway
WordPress
The flexibility of WordPress and it's ability to be customized make WordPress a great platform for eCommerce sites. You will want to make sure you choose a host that can accommodate the minimum requirements for WordPress. Many hosts will actually install WordPress for you, and help you configure your domain settings. These can be great time savers.
WordPress Themes
Once you have WordPress installed on your host, you'll want to make sure to choose a great looking theme. The WordPress theme directory offers thousands of free themes. These themes can be a great starting point and help keep costs low.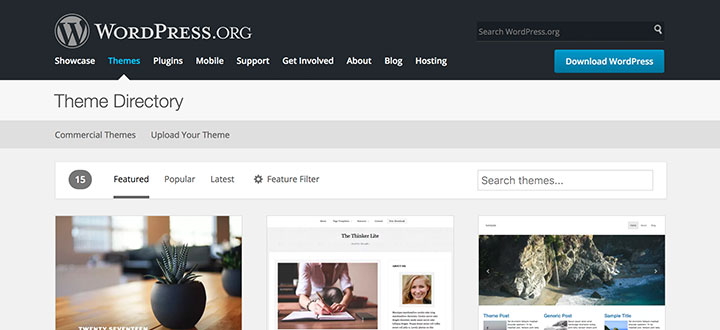 If you're creating a site for your band, you may want to use a premium theme built specifically for musicians. These themes are created with the most important elements of a music site in mind. AudioTheme creates products exclusively for musicians, bands, and record labels. The themes are powered by the AudioTheme plugin, which allows for easy management and beautiful presentation of gigs, videos, and records. AudioTheme products are also developed with basic integration for the most widely used WordPress eCommerce plugin, WooCommerce. Our latest theme, Merchato, even has full integration for WooCommerce.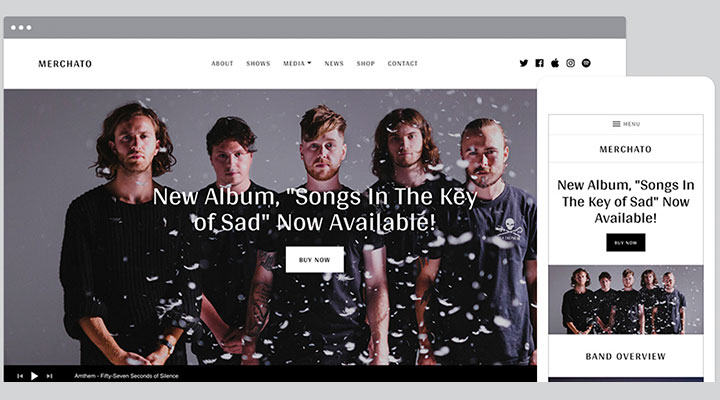 Selecting a theme that will not only work well as an eCommerce store, but also allow you to present your band in a professional manner is essential to wowing visitors and creating a successful site.
SSL Certificate
When selling products directly on a website, an SSL certificate is required to collect payments. Not only does having a certificate improve security, it also gives your customers peace of mind while they shop.
Recently, many major browsers have made a point to call attention to websites that don't have SSL certificates installed. For example, Google Chrome and Firefox label sites without SSL certificates as "not secure" in the main toolbars.
Many hosts offer SSL certificates as add-ons. Some actually provide them free of charge. Be sure to ask your host how you can install an SSL on your site. In recent years, an organization called Let's Encrypt has started providing SSL certificates free of charge. Many hosts have a partnership with Let's Encrypt, so be sure to ask about it.
eCommerce Plugin
WordPress can integrate with many eCommerce plugins, depending on what types of products you are trying to sell.
If you are only interested in selling digital products like mp3 tracks and full records, a plugin like Easy Digital Downloads (EDD) may be a good fit for your site.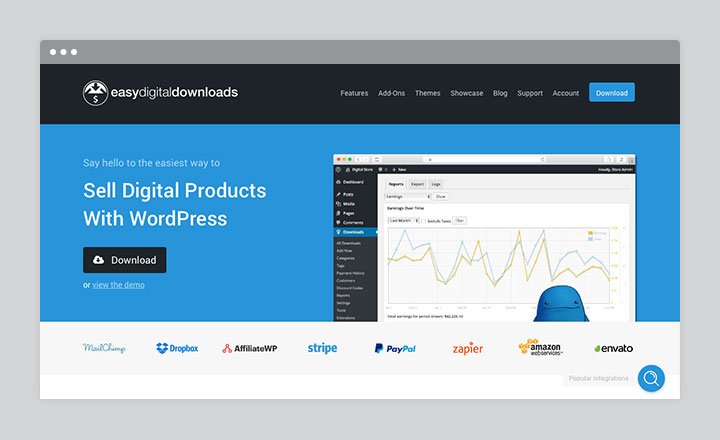 However, if you're looking to sell both digital and physical products, like mp3 files, t-shirts, and posters, one of the best options is the widely popular WooCommerce plugin.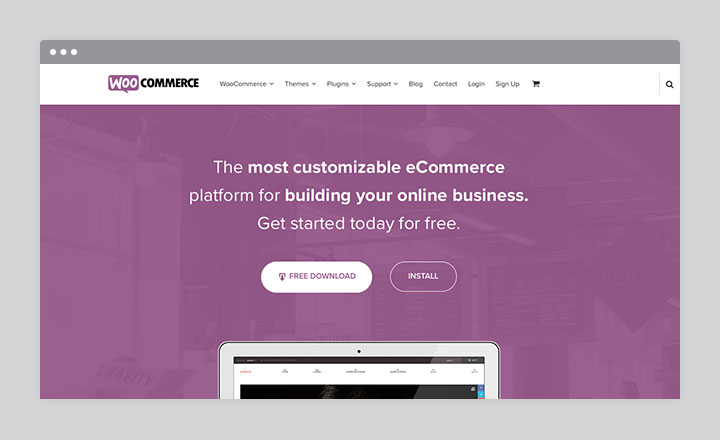 Both EDD and WooCommerce are free plugins. They also have several available premium add-ons and third party products that can extend their functionality.
Give your shop layout and organization some thought. You want customers to be able to easily navigate through your shop and find what they are looking for. A great way to do this is to organize your items by category or other attributes. For example, you may want to have a category strictly for music, where you offer digital downloads and physical CD's or records, and another category where you offer other merchandise such as t-shirts and posters.
Selling Individual Tracks on WooCommerce
It's common for musicians to want to sell digital copies of both full records and individual tracks on their websites. As of right now WooCommerce doesn't provide a solution for offering both a full album download and individual track downloads on the same product page. This means you'll need to add the full album and each individual track as their own products. Admittedly, this is a little redundant and can clutter up your site. Hopefully the good folks at WooCommerce will provide a solution soon. We'll cover a workaround for this in an upcoming post.
Payment Gateway
Now that you've created your products and made them available for sale, a payment gateway is the last critical component of your online store. The payment gateway is what makes it possible for your customer to use their credit card to make a purchase online. Some of the most popular gateways are Stripe and Authorize.net. PayPal can also be used as an alternative to a payment gateway, but requires a bit more administrative work and requires the user to leave your site temporarily.
Typically, payment gateway providers charge around 2.9% + 30 cents per transaction. Compare this with hosted platforms that can take 15% or more of sales as commission. It can add up to some substantial savings. Another great thing about WooCommerce is that it allows you to accept multiple payment options. With WooCommerce, you can accept credit cards and PayPal at the same time.
Wrapping Up
Using WordPress to create an online music store or add a shop to your band's website is a great option for selling music and merchandise on the web. WordPress' tremendous ability to be flexible and customized allow for nearly endless options when it comes to eCommerce websites. Creating your own store allows for better control over your products and profit, and allows you sell products without making customers leave your site.