Jon Manness is a trumpet player and composer in Los Angeles. He has performed and recorded with such international artists as CeeLo Green, Alex Sparrow, Dezmond Meeks, and Zahir Ashe.
As a composer, Jon has written music for the AVATAR Blu-ray, MICROSOFT, THE US ARMY, and schools around the country.
Recent projects include recording trumpet for Magic Mike Live and a new single by CeeLo Green and Dezmond Meeks.
We recently caught up with Jon to learn more about his horn section The Red Line Horns, his musical influences, and what he likes best about his Twotone theme and the AudioTheme plugin.
When and how did you start playing music?
I initially chose the sax as my first instrument when I was in fourth grade. A couple years later, I started playing the bugle in a local drum & bugle corps and eventually switched to trumpet.
How you would describe the type of music you play?
Though I'm classically trained, I mostly play rock and pop music in Los Angeles, most notably at the Sayers Club in Hollywood. About a year ago, I formed a three-piece horn section called The Red Line Horns with Alexander Mathias (sax) and Richard Velzen (trombone). We got our start playing at jams around town and quickly got a reputation as a tight horn section. We recently recorded horns for Magic Mike Live in Las Vegas, and are about to go on our first world tour with two Mexican pop-stars, Gloria Trevi and Alejandra Guzman for their "Versus" world tour.
Who are some of your musical heroes or influences and what you love about them?
I love Doc Severinsen's sound for commercial playing (Tonight Show with Johnny Carson), Maurice Andre's beautiful classical playing, and Miles Davis and Chet Baker's melodic approach to improvisation. I also get inspired every week by the musicians I play with in LA. They're so freaking good.
What is your most popular song and where can we hear it?
I played and appeared in the music video for Russian pop-star Alex Sparrow on a song called "Jamaica," which has 12-million views on YouTube. Alex found me online, and we recorded at his LA studio on a Friday, and asked if I could be in his music video that Sunday. The timing was perfect, and I had no clue how famous he is in Russia. Maybe one day I'll get to do a show with him in Moscow…
What can we look forward to from you in the future?
I wrote additional music for THE MORTIFIED GUIDE, a new series based on The Mortified Podcast that "celebrates the misguided ways we navigated life's biggest issuers as kids." THE MORTIFIED GUIDE will be available for streaming soon. I'm also excited for the release of a new single that I played on by my friend Dezmond Meeks and produced by CeeLo Green called "Loose Me," which is so catchy and fun to play. Dez is making waves in LA as an amazing singer and performer, and I can't wait for his music to blow up.
What do you like best about the Twotone theme AudioTheme plugin?
I use the Twotone theme, and just love how clean and content-oriented the theme is. I'm able to feature my shows, music, and videos so easily, and the photos I post just pop visually.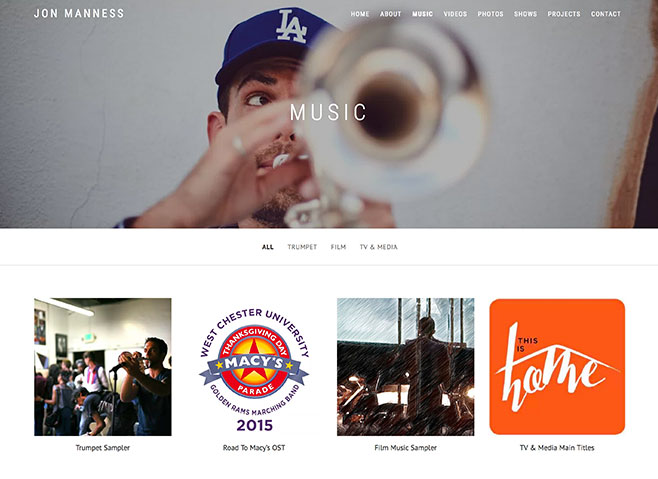 Love Jon Manness' website? Learn more about our Twotone theme.
You can find Jon Manness across the web:
Facebook
Twitter
Instagram
Soundcloud
Jon's Website
Did you enjoy this artist spotlight? Here are a few more:
Artist Spotlight: Jeff Oster
Artist Spotlight: Elephant Revival
Artist Spotlight: Sam Newton