A well-designed contact page can convince site visitors to inquire about booking you, follow you on social media, or share upcoming opportunities.
Often, these pages are overlooked, underutilized, and contain only basic information. Many bands and musicians simply "check the box" of having a contact page. Unfortunately, they completely miss the chance to drive engagement.
We'll cover how to create a contact page that will encourage site visitors to start a conversation.

What Should a Contact Page Have?
Simply speaking, the goal of a contact page is to provide a way for visitors to get in touch. However, there are many other elements that should be considered and used to drive engagement and encourage visitors to take action.
Direct Contact Information
Some people are completely turned off by the idea of using a contact form on a website. There is a (valid) fear of the message disappearing into the ether of the internet, never to be read. Other visitors may be concerned about sharing their email address for fear of it being sold or spammed. Professionals will just prefer direct contact. Odds are that if a media outlet is attempting to contact you, they'll want a direct way to get in touch. This is why you should seriously consider adding a phone number and/or email address on your band's contact page.
Management and Press Relations
If you have a management or press team, you'll want to add their contact information to this page. Different points of contact not only convey a sense of professionalism, but also give visitors a clear idea of who they should speak with.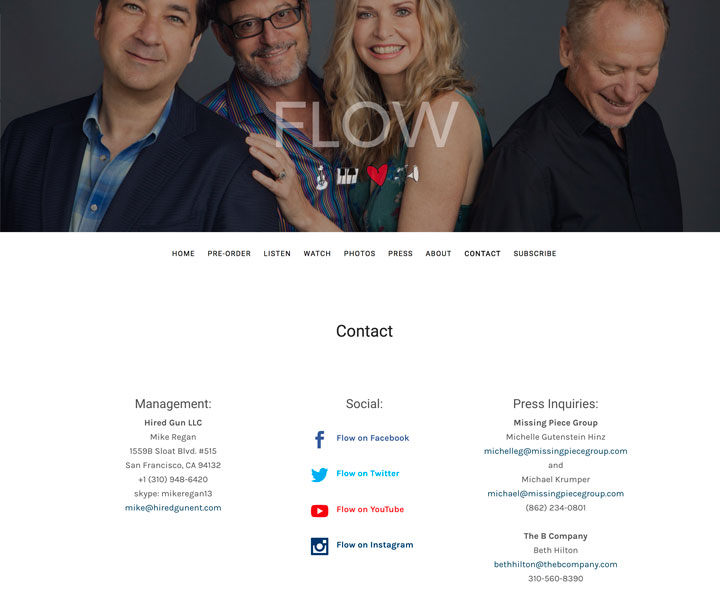 Social Media Links
Even if you have social links displayed elsewhere on your site, add them here. It's a good idea to have all of your band's means of contact in one area. Social platforms are one of the easiest and best ways to interact with your fans. You'll want to make it easy for them to find you on these platforms.
Newsletter Subscription
Consider giving your visitors an opportunity to subscribe to your email list on your contact page. Newsletters are a great way to stay in touch and top of mind with your audience. You can use your list to promote gigs, merchandise, events, and anything else that you want your fans to know about.
A Link to Your EPK
In the past we've covered how important an electronic press kit can be when you're attempting to book shows. If your band isn't quite large enough to require a separate "press" page, the contact page is a great choice to link to your EPK. Be sure it's well-designed and conveys a sense of professionalism.
Contact Form
Despite some of the issues listed above, contact forms are still a great way to allow visitors to reach out. If you have points of contact for booking, press, management, etc, consider having a contact form for generic messages to the band. Prompting visitors to say hello is the starting point to building a relationship and creating true fans. You'll need to make sure your forms are working and that you're regularly checking your inbox and responding to messages.
If you're looking for a great contact form plugin, we suggest Contact Form 7, or the contact form module of Jetpack. To curb spam form fills, you can use the Contact Form 7 reCaptcha integration, or add another plugin like this one.
Be Considerate
Be sensitive to a user's privacy – many people are more reluctant to leave their personal phone number than an email address. There's really no need to ask for sensitive information, you don't want to scare people off. Also consider what friction you may unwittingly be causing by making irrelevant fields required. For best results, keep the amount of fields to a minimum. According to a HubSpot experiment, complicated forms result in lower completion rates. Typically speaking, the less fields the better.
It should go without saying that you want to respect the privacy of your email list. Never sell or share it with anyone who could potentially spam your subscribers.
Get Creative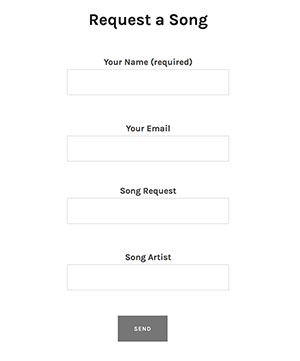 Consider using contact forms for other purposes. For example, you can use a contact form to allow your fans to request a song, or suggest you play at a certain venue. Adding some fun and creative elements to your site can be a great way to seem more approachable and allow fans to get involved.
Wrapping Up
With a little effort, your band's contact page can actually be a huge resource. Not only can it act as a lead generation source to help book gigs, schedule interviews, or discuss other opportunities, it can also drive interaction with fans and help grow your following.